How KTern can alleviate your Custom Code Migration challenges?
As you start planning for the migration of your ERP to SAP S/4HANA, you begin to realize that a very large number of custom ABAP objects and code should be adapted to run on the SAP HANA database. The custom ABAP in your system poses a big risk and may also greatly jeopardize your journey to SAP S/4HANA.
SAP has recommended several changes that needs to undertaken in the pre-HANA ABAP code as part of the HANA migration activities. This task can lead to additional efforts up to several man years. In addition to the mandatory fixes, you also need to ensure that the migrated code continues to run optimally on HANA and there are no logical or performance issues you continue to have in your code that may impact the business users.
Below are some of the challenges you will face when it comes to custom ABAP remediation for SAP HANA.
Table of contents
Key custom code challenges
How do I know what changes I need to make in the code?
Do I need to make all recommended changes prior to Go-Live on SAP HANA?
How do I prioritize changes in order of importance/impact?
How much effort and resources I need to plan?
How do I track the progress?
How do I know the performance of the code once it is changed for the SAP HANA database?
How do I know if my programmers do not change their coding style for SAP HANA?
What KTern offers
KTern's Custom Code Remediation and Code Management Engine answers the above questions and more. It consists of two steps – Analysis and Adaptation.
All the custom ABAP code should be analyzed since a lot of SAP codes are simplified in S/4HANA. Some custom codes may not be valid anymore – they may produce errors or not function as expected.
Custom codes impacted by the move should be remediated in order to use them in SAP S/4HANA. Custom code includes customer developed WRICEF Objects, clones, modifications etc.
Custom Code Analysis
KTern helps the users generate a list of findings where your custom code does not comply with the scope and data structure of SAP S/4HANA. It also helps in estimating the effort required for custom code adaptation.
The key activities that can be performed using KTern with respect to the custom code are:
Identification of affected custom objects

Scope definition of custom code migration

Define which custom code needs to be taken to S/4HANA

Custom code analysis parameters

  * Syntactically incompatible change of existing functionality
  
  * Functionality not available but functional equivalent
    available
  
  * Functionality not available
  
  * Change of existing functionality with performance impact
KTern auto-recommends a list of custom objects which are potentially high in terms of value and velocity.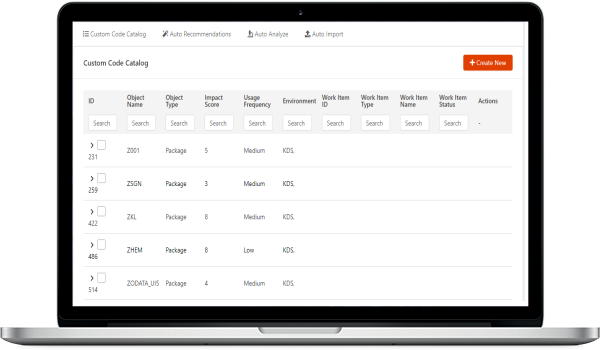 Custom Code Analytics
KTern provides a 360-degree view of the custom objects present in the connected SAP system.
The analytics dashboard depicts the following KPIs.
Custom code impact level
Number of custom objects
Number of impacted custom objects
Custom objects by remediation types (simplified objects, S/4HANA syntax errors, database operations, critical statements, field length extensions, SELECT without ORDERBY)
Impact score of each custom object
Resource utilization chart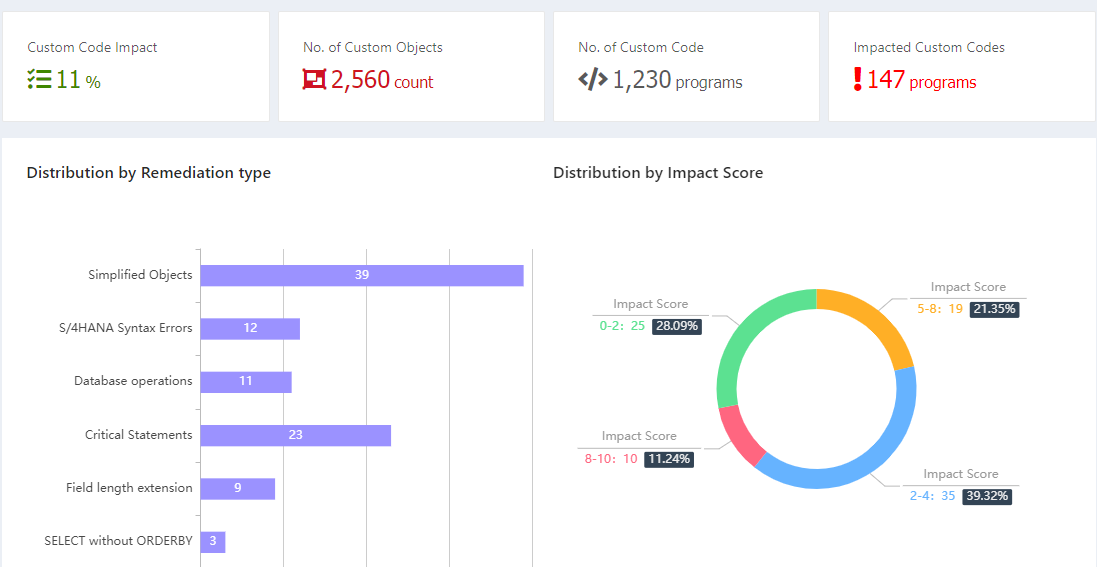 Custom Code Information
KTern provides the following basic information and impact level in the Custom Code Information wizard
Priority
Custom code type
Impact score
Optimization score
Security score
Usage frequency
Module
Business process
Environment
Stakeholders
Technical information such as Transport Requests, OSS notes, T-Codes, WRICEF objects
Linked events
Linked work items
Custom Code Lab
Custom Code Lab provides AI-based insights of the custom code and also a development environment me to edit the code manually.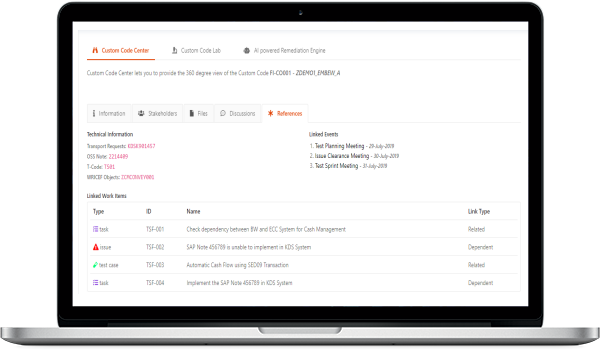 The key features in Custom Code Lab are:
* Code Editor
Seamless coding experience with ABAP Code editor
* Code Diagnostics
KTern analyzes the custom code and provides the results and recommendations in the following categories:
* Adaptation checks
* Performance checks
* SAP HANA optimization checks
* Security Audit checks

* Code Performance
KTern also provides the ABAPer an insightful information about the code performance and quality. The information such as the number of steps taken to execute, total response time, average response time, total DB time, DB time (in percentage), total sequential read time, total change time are depicted in the form of statistical widgets.
Auto Remediation Engine
KTern's AI-powered auto-recommendation engine provides the technical consultants with a list of remediation recommendations. Based on their assent, code will be pushed into the SAP System and can be recorded as a transport request.
Custom Code Sign-Off
Custom objects impacted depends on the customization and age of the system. The sign-off wizard helps the project manager from the system integrator side to easily decide on the sign-off from the customer. The sign-off wizard helps to find out whether the stream of custom object operations (in modules, business processes) are completed or not.
Curious to learn more about KTern's Custom Code Remediation capabilities. Watch our one hour on-demand webinar on custom code at https://ktern.com/webinar/automated-custom-code-remediation-sap-s4hana-migration
To learn even more, do schedule a full-fledged KTern demo at https://ktern.com/schedule-demo