Managing Test Cases in your S/4HANA Transformation Project
Testing is one of the most crucial phases in an S/4HANA conversion. Yet, 72% of the companies depend on manual testing to verify changes in critical business processes. Manual testing is costly (representing over 30% of the typical SAP project budget), time-consuming, and not thorough and accurate enough to guarantee that critical risks will be exposed.
What makes manual testing so scary? Imagine you have just completed your sandbox conversion. After the conversion, you must deploy at least 30-40 testers to test each scenario and business process. This is a cumbersome task and takes 2-3 weeks of manual effort. The accuracy part of such manual testing scenarios can only be left anyone's imagination. Now, this process must be repeated for the development conversion, quality conversion and production conversion as well. Sounds tiring, right? Is there a way to automate the testing process?
To meet quality standards when implementing continuous change, enterprises need a single tool which can not only ensure test automation, but also take care of test management, test execution, test tracking, and test collaboration. After all, choosing the right testing solution can remove the problems involved in testing. In this article, we will let you know about how KTern automates Test Case executions during an S/4HANA migration project.
Table of contents
SAP S/4HANA Test Lifecycle
SAP Testing is the process of verifying the functioning of S/4HANA with an intent to find out whether the ERP system meets the specified requirements.
Testing is essentially a quality assurance process that ensures the correct operation of SAP S/4HANA before the project implementation Go-Live.
Also, testing is not just restricted to the project implementation and project go-live phase. SAP S/4HANA is a new-generation ERP with regular updates and new releases. So, testing is necessary at each upgrade and therefore, customers must realize that SAP S/4HANA Testing is a continuous never-ending process.
SAP recommends Activate methodology for S/4HANA Projects. Each phase of Activate has its own set of buzz words associated with it. For Discover, it is Value Scoping and Impact Study. Similarly, for Prepare it is Project Team Preparation and for Explore the words associated are Cutover Preparation and Design of the system. Coming to the Realize phase, the keyword associated is Testing, Testing, and only Testing.
As per the SAP Activate Methodology, the test lifecycle consists of three phases:
Test Planning
Test Preparation and Execution
Test Validation
Introduction to KTern's Digital Labs
KTern is an automated digital workplace built for SAP Digital Transformations. With decades worth of SAP Tribal knowledge combined with automation, governance and collaboration capabilities, KTern is built to help the existing ECC customers migrate to S/4HANA. KTern covers the entire lifecycle and guides you before, during and after the conversion. Its inbuilt S/4HANAPEDIA rule engine combined with several modules eases the transition from SAP ECC to SAP S/4HANA.
Digital Labs of KTern is tightly integrated with a project management hub. Typically, the testers would be testing the various test cases on one side and the governance would take place via emails or chat or any other project management tool. The whole process was cumbersome and arduous for all the stakeholders involved. Therefore, we developed the Digital Labs of KTern to execute, manage and collaborate all the testing related activities of an S/4HANA migration/upgrade project from a single place.
KTern strictly abides by SAP's Activate framework. Hence, as the first step, in the Discover phase, KTern completely analyses the entire ECC landscape and auto-recommends the test cases and test scenarios. Based on the number of test cases and complexity of the system, KTern calculates the effort and timeline for the S/4HANA migration project.
You can also use KTern to perform test case executions.
Test Case Wizard
Once you click and launch any test case from the test catalog, you will be automatically directed to the Test Case Wizard. The test case wizard consists of some basic information like the status, priority and the test type. It also has the option of editing the test case.
Test Center
Under the test case wizard is the Test Center. It is the one-stop center for getting all the information, notes and files with respect to a test case. Some of the important details in the Test Center provides the following info regarding a test case:
Test plan and scenario to which the test case belongs
Related functional module of the test case
Business Process of the test case
Description of the test case
Materiality profiling score of the test case
Stakeholders involved in that particular test case
Planned vs Actual details of the test case
Any files uploaded by a team member against that test case
A discussion forum for stakeholders to collaborate
A platform for any reference or wiki notes
The test case/work-item hierarchy tracker
As you can see, the test center in KTern acts as an intuitive platform to collaborate and get things done. Instead for multiple email threads and project governance tools, you can simply login to KTern and perform all the activities instantaneously. In this way, KTern offers a higher visibility to the project managers and key stakeholders on all testing activities.

Test Lab
Test script and Test evidences are almost synonymous with executing a test case. A test script is nothing but a set of instructions that defines the steps to be executed along with the expected results for each step. The Test Lab of KTern allows you to create test scripts and test execution logs. You can define the environment in which the test case must be executed and also the various steps and expected results of the test script.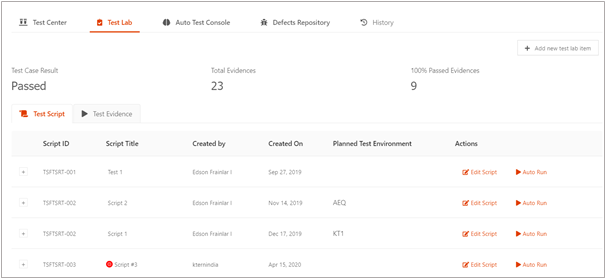 Rigorous testing requires tracking of what was done and what was observed. Test evidence enables you to record the results of the test execution. In case of any issues during the test case execution, corresponding defects can also be captured against a test evidence.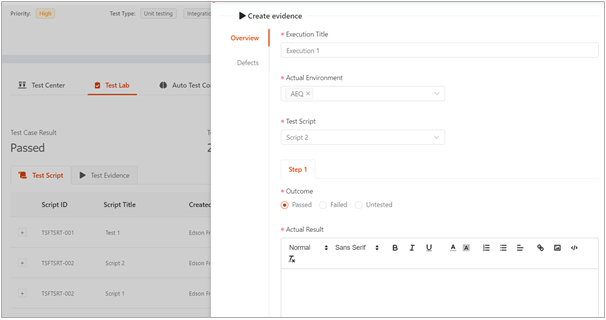 Auto Test Console
Auto Test Console in KTern enables you to perform auto test case executions. You just have to connect the SAP system to KTern and click on the "Perform Auto Execution" button.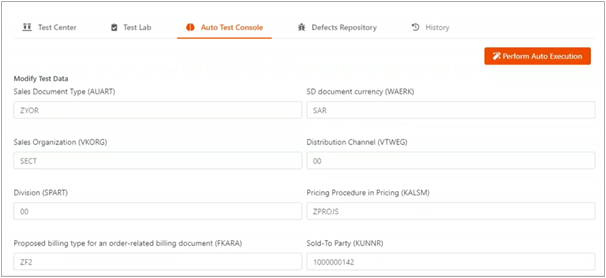 After auto-executing the test case, KTern automatically creates the test evidence and records the outcome of the test case execution.
Defects Repository
There is a separate defects repository in the test case wizard from where you can create issues/defects related to the test cases. A defect is primarily created when a test case execution has failed. While creating a defect, you can assign stakeholders, planned vs actual dates and map the created defect to a particular test case. Therefore, in this way, KTern provides a way for all the project managers, test engineers and key stakeholders to operate from one place and one place only.
KTern also captures the history thereby enabling you to track all the changes which have been made to that test case since it was created.
In addition, you can also download an auto-generated test case report which contains all the details of the test case. If need arises, you can also edit the test case report.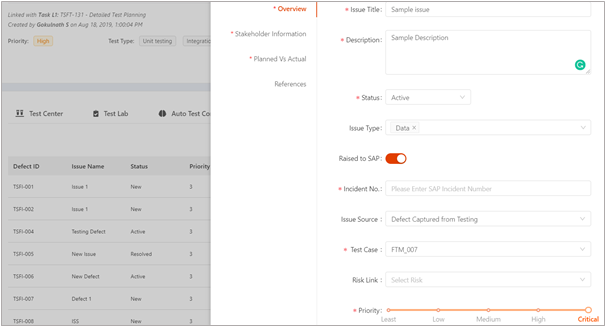 How is KTern's Digital Labs different from that of its competitors?
There are several SAP testing tools available in the market like HP ALM and Tricentis Tosca. They are used in the actual testing during the Realize phase of a S/4HANA conversion.
However, the differentiating factor of KTern is that it enables us to automate, managing and monitoring the testing process starting from the Discover phase itself. In addition, KTern provides a detailed analysis of each test case and the materiality score formulated helps in prioritization of test execution. All this results in better decision making and planning during your journey to S/4HANA.
Another differentiating factor of KTern is the tight integration between the Digital Labs and the project management hub. A Digital Transformation project is not dependent only on data and process flows alone. One of the critical factors for the success of any digital transformation is the active collaboration of stakeholders. The same holds true for an S/4HANA conversion project, which forms the core of your digital enterprise. In this sense, KTern provides a completely wholesome experience for all the stakeholders involved in the project.
Next Steps
Now that you know how KTern performs custom code remediation, you might want to get a first-hand feel of KTern and its other several other modules which help automate and govern SAP projects from start to finish. You can get started with the same at KTern Demo. Alternatively, if you would like a guided demo of the product from one of our product engineers, kindly get in touch with us by submitting a message at Contact Us.