Automated Roadmap Generation for S/4HANA system conversion using KTern.AI
How long will the move to SAP S/4HANA from SAP ECC take? This is one of the most pertinent and over-arching questions that a CIO or a Project Manager has to answer. But, the problem is there are no generic answers for this question.
Every organization is different and every business process unique. You may have customized your SAP ECC system over the past several decades to accommodate the business process of your organization. However, not all these enterprise structures, enhancements and customizations may be useful. Some of them may have been developed several years back and might not be relevant to your business today. Hence, it is necessary to analyze your entire ECC landscape before moving to S/4HANA.
Post this analysis, you will have to generate a roadmap/timeline for your S/4HANA system conversion. Creating a roadmap for the transition will help you to keep a track of the vital project milestones. KTern.AI automatically generates a high-level SAP S/4HANA system conversion project after analyzing the entire system for its complexity, integrations and customizations.
Table of contents
What is a Project Roadmap and why is it important?
A project roadmap is nothing but a detailed picture of the project's deliverables and milestones. It gives a timeline of what to expect at certain times during the course of the project lifecycle. It allows the stakeholders to have a bird's eye view of the project and keep track of the project milestones.
Generation of a project roadmap takes time as it indicates the project timelines. It also takes the risks involved in an S/4HANA conversion project into account. It highlights the project specifications and the impact of the project. In other words, a roadmap aligns the team's daily activities with the overall goals of the project. However, a project roadmap can be subject to change during the course of the project lifecycle.
There are several steps involved in the creation of a project roadmap, they are:
Identification of interested parties
Establishment of business priorities
Identification of risks
Key milestones definition
Timeline definition
SAP S/4HANA Roadmap Generation
Organizations operating on SAP ERP are looking for an approach to migrate to the latest business suite, SAP S/4HANA. Building a roadmap for SAP S/4HANA involves the following steps:
You must create a comprehensive business case to justify your investment in S/4HANA. A business process and technical element assessment help in providing a plan for capital budgeting. After building a business case, you must then find out the 'when' and 'how' of the transformation.
Current Business Process Assessment
Many organizations are of the illusion that they have a thorough understanding of their system landscape and business processes. However, that is far from the truth. The system evolves over a period of time and has a lot of customizations, integrations and organizational silos. Hence, a systematic assessment of your current business landscape will help in building a project roadmap and estimate the project cost.
A Business Process Assessment provides the impact of technological and business process changes. Looking into the current ECC landscape for the extent of integrations and customizations also goes a long way in creating the S/4HANA conversion roadmap. You can develop the project milestones and timeline using the S/4HANA assessment.
KTern.AI Automatic Roadmap Generation
KTern.AI is an all-in-one product suite built for SAP Digital Transformations. With decades worth of SAP Tribal knowledge combined with automation, governance and collaboration capabilities, KTern.AI is built to help the existing ECC customers migrate to S/4HANA. KTern.AI covers the entire lifecycle and guides you before, during and after the conversion. Its inbuilt S/4HANAPEDIA rule engine combined with several modules eases the transition from SAP ECC to SAP S/4HANA.
KTern.AI Impact Analysis module assesses the complete SAP landscape and provides an assessment report. The assessment report enables you to understand the implications of the transition from an existing SAP ERP system to S/4HANA. The Roadmap Guide module of KTern.AI provides an automated high-level roadmap of the SAP S/4HANA system conversion process. The Solution Architects and the Project Managers can then validate the roadmap and proceed with the system conversion project.
In addition, you can find out SAP S/4HANA assessment in this article.
Features of KTern.AI Automatic Roadmap Generation
After assessing an SAP ECC landscape completely, KTern.AI uses it AI/ML based S/4HANAPEDIA rule engine to auto-generate a roadmap and timeline for your S/4HANA conversion. This roadmap/timeline is custom-made for your system only. It takes system complexity, customizations, add-ons, integrations and enhancements into account and then comes up with the timeline.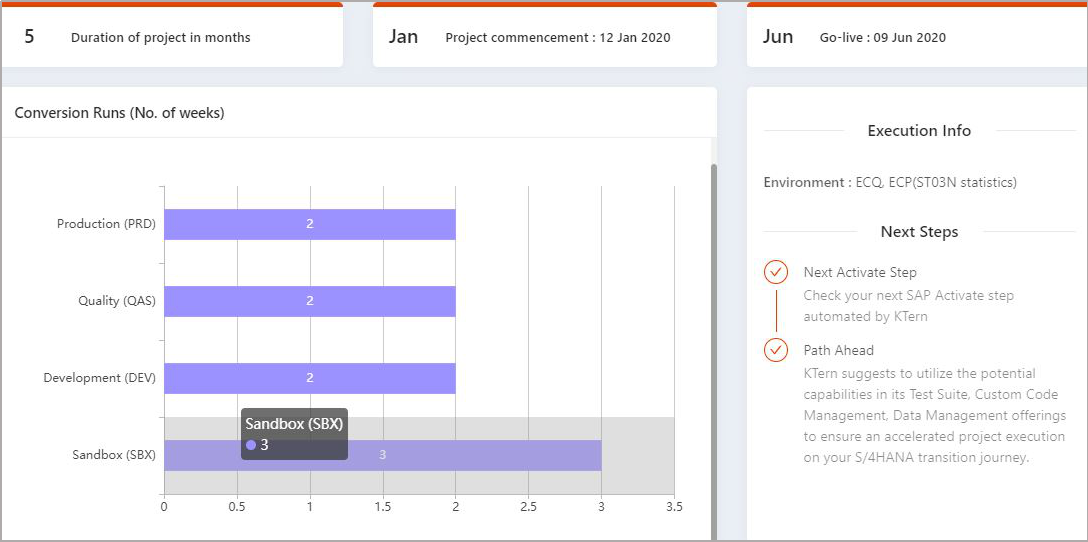 As seen in the above picture, KTern.AI provides an approximate timeline for the sandbox conversion, development conversion, quality conversion and production system conversion.
Features of KTern.AI Automatic Roadmap Generation

Sandbox Conversion
Development System Conversion
Production Conversion
Sandbox Conversion
Generally, a sandbox conversion takes around two to three months depending on the system complexity and takes the longest time of all conversion runs. Sandbox conversion is done on a system with production data. A sandbox conversion helps you identify and understand the actual changes in the data model. You may have faced several errors, installed various notes, abided by SAP's best practices during the Sandbox conversion.
Development System Conversion
A quality system conversion takes lesser time than a development conversion. You must convert the existing ECC quality landscape into S/4HANA quality landscape.
Production Conversion
In this stage, the final production landscape of the ECC system is converted to S/4HANA. With this the system conversion project is completed.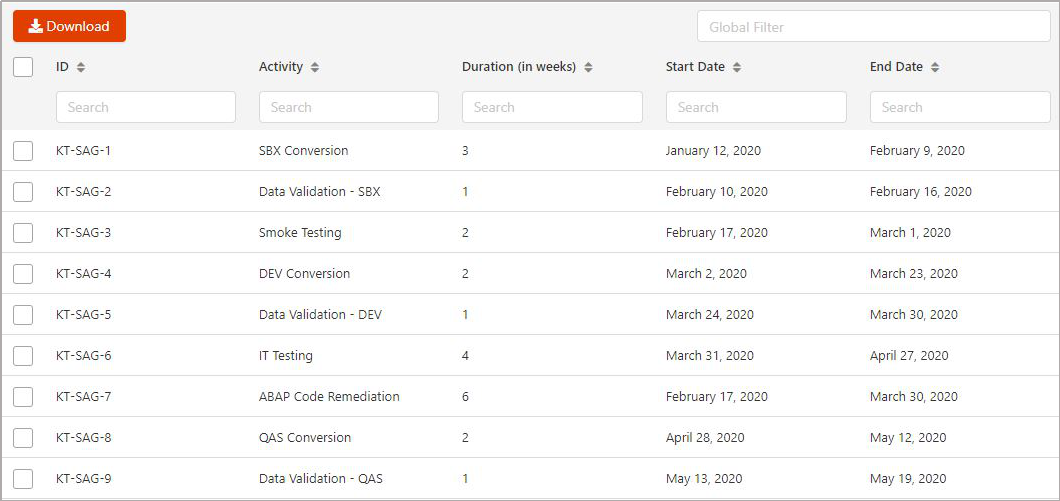 KTern.AI also provides a detailed timeline of each of the sub-phases of the project with their start and end date. The Solution Architects and Project Managers can use this rough project roadmap and chart out a detailed plan for the conversion. The SAP Partners who have partnered with KTern.AI can also use this roadmap for their customers.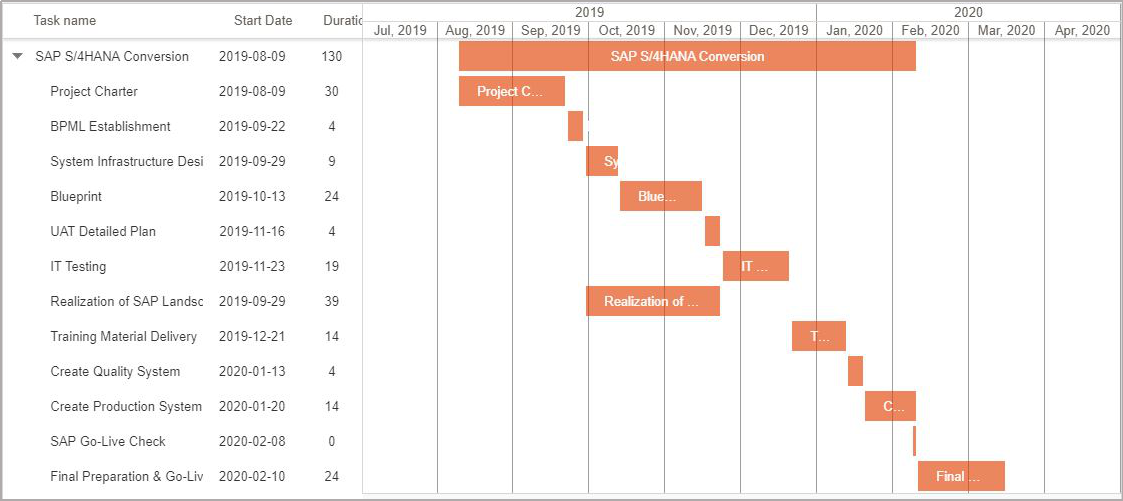 Digital Transformation project is not dependent only on data and process flows alone. One of the critical factors for the success of any Digital Transformation project is the active collaboration of the stakeholders. And, KTern.AI provides a single platform where everyone can collaborate and have a clear view of the happenings of the project. KTern.AI provides the option of downloading the roadmap, and gives a platform to collaborate with other stakeholders and get their approval as well.
This feature of KTern.AI is not available in any other contemporary S/4HANA conversion tool.
Next Steps
Now that you know how KTern.AI generates an automatic roadmap and timeline for the SAP S/4HANA system conversion, you might want to get a first-hand feel of KTern.AI and its other features which help automate and govern SAP projects from start to finish. You can get started with the same at Getting Started. Alternatively, if you would like a guided demo of the product from one of our product engineers, kindly get in touch with us by submitting a message at Contact Us.