5 Reasons why you should skip suite on HANA And go directly to S/4HANA
SAP is quite well-known for offering intense industry functionalities and process coverages. Industry functionalities were developed as add-ons to the Enterprise Business Suite (also called Suite on HANA). Both were mutually exclusive or had compatibility restrictions between each other.
SAP's response to today's blurring industry boundaries (e.g. manufacturers selling usage-based subscriptions rather than products; consumer product companies building out retail functions) is to reapply these industry specific inclinations into the core S/4HANA solution in order to make them accessible for customers across all industries, while fully utilising the in-memory technology that was not available before, to run live.
Table of contents
Overview of HANA
SAP HANA (High-Performance Analytic Appliance) is an in-memory database platform developed by SAP.
It is designed to process large amounts of data in real-time and provide real-time analytics and insights.The platform uses in-memory technology, which allows it to store and process data in RAM rather than on disk, resulting in faster data processing and analysis.
SAP HANA can be used for a variety of applications, including business intelligence, data warehousing, and transactional processing. It also has advanced analytics capabilities such as text analytics, spatial data processing, and graph data processing.
Additionally, it can be used to develop and run custom applications, and it supports multiple programming languages and development frameworks.
Pros of SAP HANA
Real-time data processing
Advanced analytics capabilities
Flexible deployment options
Improved performance
Improved security
Cons of SAP HANA
High costs
Complexity
Limited scalability
Limited support
Limited expertise
So, what is Suite on HANA?
SAP ECC, or the Employee Central Component, was designed to run on any database including Oracle, SQL, Sybase etc. However, SAP launched its own high-performing in-memory HANA database in 2011. With its launch, it is now possible to run ECC on the HANA database. This is often referred to as Suite on HANA (SoH). However, S/4HANA, the next-generation business suite from SAP, runs on the HANA database and the HANA database only.
In order to move to S/4HANA from ECC, you can move to Suite on HANA first (that is, change the underlying database to HANA) and then move to S/4HANA. This is a two-step process. Otherwise, one can directly move to SAP S/4HANA.
In this article, we'll discuss why skipping the Suite on HANA step and moving directly to S/4HANA might actually turn out to be a good move.
1. Suite on HANA almost doubles your effort
The overall effort involved when moving to Suite on HANA first, and then upgrading to S/4HANA is not only huge but also involves a longer implementation timeframe, which in turn translates into additional costs.
SAP advises skipping these unnecessary sunk costs by forgoing the SoH stage altogether and directly moving your landscape to S/4HANA.
ADOPT NOW
Split S/4HANA adoption effort
Consume innovation rapidly
Build own code on the latest technology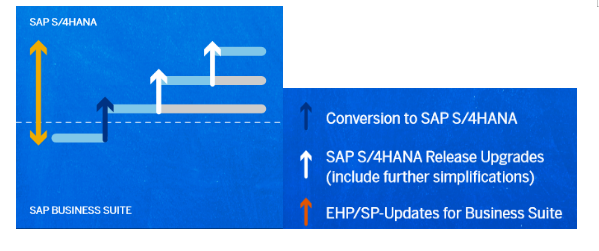 ADOPT LATER
Full S/4HANA adoption effort in one step
Late innovation consumption
Custom code on legacy technology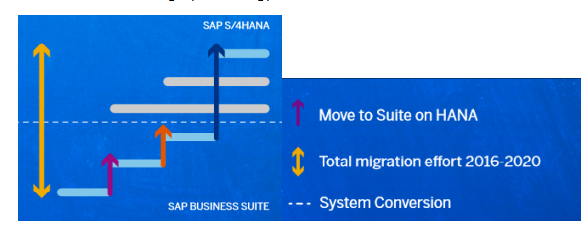 2. S/4HANA means a simpler IT landscape and smaller data size compared to Suite on HANA
Due to simplification of the underlying data model, extensive capabilities can now be integrated back into the core, reducing the landscape for IT staff to manage. This influences everything from storage costs, to backup/restore times, and rebooting in an HA/DR scenario. In addition, because of the simpler data model, there are fewer tables to manage, and no aggregates or secondary indices to control. This indicates that there will be notable or row locks to cause performance and reliability problems. This is valid for all production, development, and test environments. Also, SAP S/4HANA can run multiple industry solutions in the same instance.
3. Operational reporting is easier in S/4HANA than on Suite on HANA
As we are dealing with simpler data model, there is no necessity to build and maintain a separate data aggregation or an Operational Data Storage (ODS) for operational reporting.
4. S/4HANA has more deployment choices than Suite on HANA
In addition to on-premise and HEC (choices available for SoH as well), S/4HANA has several public and private cloud options as well.
5. S/4HANA is re-architected for HANA while Suite on HANA is not
Suite on HANA is just ECC 6 on HANA. No major modifications were made to its core structure and therefore the benefits are limited. SAP S/4HANA, on the other hand, has a re-architected, simpler data model purposely built to take advantage of HANA's in-memory capabilities. This simplistic data model is the origin for every business, IT innovation and benefit SAP has described since S/4HANA was launched.
Next Steps
To learn more on SAP S/4HANA conversion and KTern, view the demo at our website or schedule a guided demo for an express session on KTern and its features.