License Impact on moving from SAP ECC to SAP S/4HANA
Table of Contents
Introduction
Among the many different questions that organizations have with respect to the move to SAP S/4HANA, the questions revolving around licenses seems to be the most critical. SAP S/4HANA may have several benefits including performance, speed, real-time transactions and reporting, but there are still many questions to be answered.
We have tried to build a small matrix (refer the image), from our own experiences with our customers, to build a business case for SAP S/4HANA.
This matrix provides the business and license impact of some of the key functions and processes in SAP S/4HANA.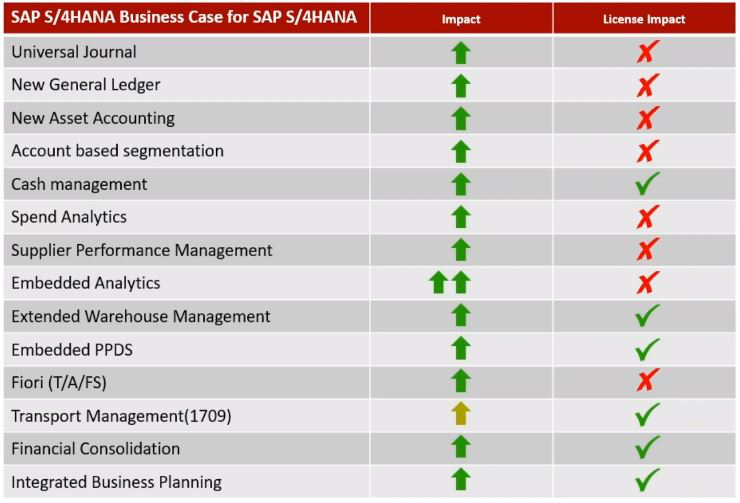 Overview of License Impact
When moving from SAP ECC (Enterprise Central Component) to SAP S/4HANA, there are several changes in licensing that organizations need to be aware of. These changes can have a significant impact on the cost of the migration, so it is important for organizations to understand the key factors that impact licensing costs.
One of the major changes in licensing when moving to S/4HANA is the shift from traditional perpetual licenses to cloud-based subscription licenses. This means that instead of buying a license outright, organizations will pay for a subscription to use the software on a monthly or annual basis. This can result in a lower upfront cost, but the ongoing costs of the subscription can be higher.
The benefits of understanding the license impact when moving to S/4HANA are:
Cost savings: By understanding the changes in licensing and the key factors that impact costs, organizations can take steps to minimize the impact of licensing on their migration costs.
Better budgeting: Understanding the costs associated with licensing can help organizations to budget for their migration more accurately.
Avoiding unexpected costs: Being aware of the changes in licensing can help organizations to avoid unexpected costs during the migration process.
Better decision-making: Understanding the licensing changes can help organizations make informed decisions about the migration process and the best options for their specific needs.
Compliance: Being aware of the changes in licensing can help organizations to ensure compliance with licensing terms and avoid legal issues.
Universal Journal, New General Ledger , New Asset Accounting and Account Based Segmentation
Now, if one looks at the Universal Journal, there is a significant business impact but there are no license implications. The same goes for New General Ledger, New Asset Accounting, and Account based segmentation.
Account based segmentation is something that people who have used Costing based COPA in ECC will understand. However, it is no longer relevant in SAP S/4HANA as it has been replaced with Account based COPA and it provides much more flexibility for segmentation and reporting.
New Asset Accounting feature in SAP S/4HANA also has significant enhancements. In SAP ECC, there was always differences between Asset Accounting and Finance (FI). With the new Asset Accounting in S/4HANA there is only one version of the truth. The sames goes for the General Ledger as well.
There is no more differences between CO and FI because all the data and transactions goes into the Universal Journal directly.
Cash Management
Cash Management in SAP S/4HANA is separate process by itself. It covers Bank Account Management, Cash Operations, Liquidity Management, Treasury and Risk Management (TRM) among others.

In SAP ECC, there were a couple of reports that could be used for cash management, but now that's gone into a new license package called S/4HANA Cash Management. Hence, there is a license impact on cash management, but it is completely integrated into the SAP S/4HANA Suite.
Another interesting fact is that it looks into the previous patterns and tries to do some invoice matching and it's possible only because of the Machine Learning component integrated to Cash Management
Spend Analytics , Supplier Performance Management , Embedded Analytics
Similarly, Spend Analytics and Supplier Performance Management don't have any license impact.

Embedded Analytics is one of the major improvements in SAP S/4HANA and it is completely integrated within the suite.
Extended Warehouse Management, Embedded PPDS
Extended Warehouse Management and Embedded PPDS which were part of the Advanced Planner Optimizer (APO) have a license impact when they move to SAP S/4HANA. They already had a separate license when they were part of the APO.
Fiori (T/A/FS)
Several Fiori Apps of Transactional, Applicational and Fact Sheet types have been enhanced in the latest version of SAP S/4HANA but they do not have any license impact.
Transport Management , Financial Consolidation and Integrated Business Planning
Transport Management, Financial Consolidation, and Integrated Business Planning have a small license impact in SAP S/4HANA, but they are all integrated to the suite.
Learnings
So, from this list, it can be inferred that we can safely rule out a couple of instances for which there were modules like SRM, APO, BPC, BI/BW in the past. And we all know how complicated it was, when the ECC system was connected with SRM, APO and BPC. Atleast, these applications are completely gone now because they have been integrated back to the core.
To have an integrated scenario from Supply chain, Advanced Planning, Manufacturing to Freight forwarding, transportation management (where you can collaborate with all the transportation stakeholders) embedded into one single Digital Core is one of the huge advantages of SAP S/4HANA.
SAP S/4HANA simplifies the complex landscape and it is one of the major drivers why organizations plan to move to SAP S/4HANA. With KTern.AI, plan your License Optimization by looking into your ERP Data.
Next Steps
Curious to learn more about KTern and SAP S/4HANA Conversion? Go through our articles and on-demand webinars at your convenience. To learn even more, do schedule your direct 60 minute session on KTern along with a demo of the product at Getting Started.