SAP S/4HANA 2022 - Project Management Best Practices with KTern.AI
If there is a technology in-place running just fine, then why should I change it? This is a question that most organizations running on SAP ECC have on their minds. Apart from the fact that ECC 6 will reach the end of its life by 2027, customers really need a solid business case to migrate to SAP S/4HANA.
But, is migrating to S/4HANA just a technical upgrade like the previous EHP upgrades? The answer is definitely and resoundingly NO. SAP S/4HANA is much more than just a technological platform. It's the Digital Core to the future offering the latest best practices, user experience and analytics. It opens the door to next-gen capabilities like Artificial Intelligence, Machine Learning, Robotic Process Automation and much more.
Table of contents
Managing a Digital Transformation project
Moving to SAP S/4HANA is just the beginning of a huge Digital Transformation initiative. But, here's an alarming stat. Four out of five Digital Transformation projects fail to reach their desired goal and a lot of time, money and effort is wasted. Why do so many digital transformation projects perform dismally even after careful planning? Is it because the technology fails to deliver? Or are we expecting a lot from these projects?
Neither. A Digital Transformation project does not depend only on data and process flows. One of the critical factors for the success of any Digital Transformation project is the active collaboration of the stakeholders. A lot depends on whether a team member can connect with another member quickly? Can they see the context of a discussion that happened last week? Can they pull up the list of tasks assigned to everyone to see the progress of a project?
More often than not, they will have to navigate through disparate project management tools (read Jira, Asana, Trello boards, excel sheets etc) and email threads to find out the above information. The whole process becomes cumbersome for the project members and also for the project managers & key stakeholders leading to unexpected timeline extensions.
KTern's Digital Projects
But, what if we told you that you can handle an entire Digital Transformation project as complex as an SAP S/4HANA transformation from a single place? Yes, you heard that right. KTern provides a single platform where you can automate, manage, collaborate, govern and have a clear view of the happenings of any SAP project.
KTern.AI provides is an automated digital workplace embedded with Activate framework for SAP ERP transformations. The autonomous KTern.AI controls your digital transformation with its SAP tribal knowledge and data powered intelligence. Its remote digital workplace helps you ensure continuity and increase productivity of businesses & projects.
KTern.AI's Digital Projects is the underlying framework which orchestrates collaborative engagement, enables on-time phase closures, ensures knowledge transfer and change management of all the digital transformation stakeholders – customers, partners, system integrators & SAP. The KTern.AI enterprise product suite drives productivity for the businesses and projects on a larger scale in one digital platform.
Project Creation
Once you login to KTern.AI, you'll be taken to the Project Launchpad. A project launchpad is nothing but a repository of all projects that the user is a part of. You can create a new project for an S/4HANA implementation, conversion, or selective data transition as well from this window.
You can also pre-define the project timeline and set up a project calendar. KTern will then automatically pre-generate an SAP Activate based project plan which can be customized according to your needs. If not, you can also upload a project plan from an excel sheet into KTern.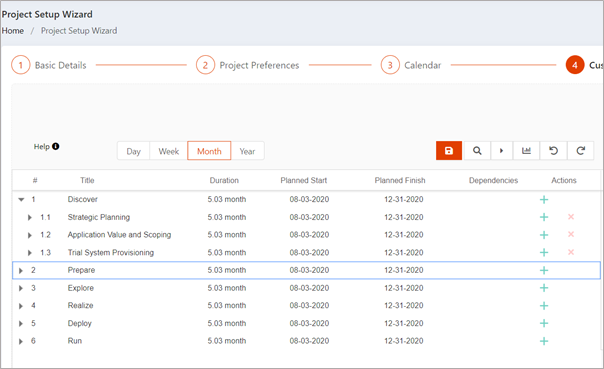 Inviting users to KTern
Once the project is created, you can invite other project members and stakeholders (both from the system integrator side and the customer side) into KTern, so that everyone has a clear view on the happenings of the project. Inviting users is a simple one-step process.
While inviting the users, you can also define the hierarchy of team members and the access levels. There are four access levels in KTern – Limited, Basic, Standard and Super.
Based on the project hierarchy assigned while inviting the users, KTern automatically generates an organization structure. This will help you get a clear understanding of the reporting structure, sign-off structure and escalation matrix within the project.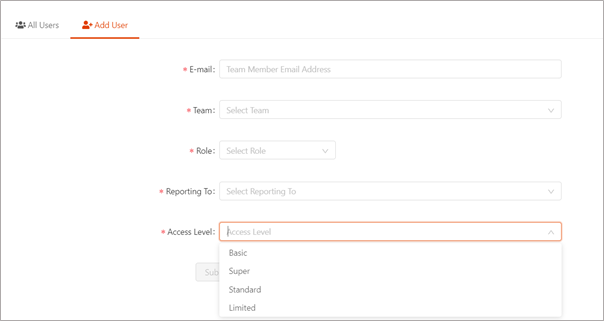 Workspace
After launching a project, a user will land up on the "My Workspace" screen by default. It is a dashboard which contains an overview of all the work items that you are a part of in the project. There are three main types of work items in the workspace – Tasks, Issues and Test Cases.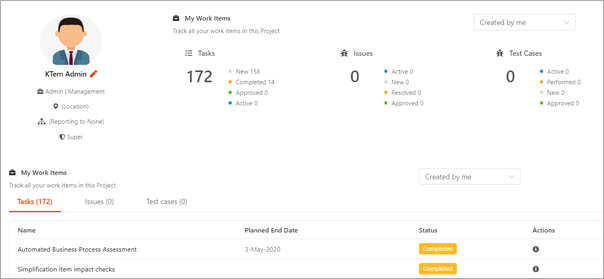 Control Center
The Control Center is a place from where the project managers can control the entire project from one place and it gives an overall view of the health of the project. You can define the functional scope and IT scope, monitor communications between team members, and ensure project cadence all from a single place within KTern.
The project manager can also add and monitor potential risks during the course of the project. The risk indicators, risk response and the person responsible can also be managed from within KTern.
Control center contains the following sub-sections:
Smart project charter
Intelligent risk management
Intelligent communication matrix
Organization structure auto-formulator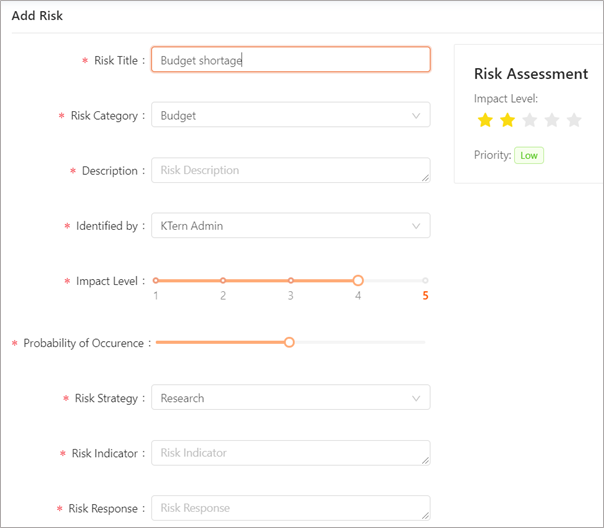 Timeline
Timeline in the Project Hub is a place where users can add and edit tasks in the auto-generated project plan. Users can also link these newly created tasks to their predecessor tasks and create dependencies between tasks.
The workbook is a view similar to excel sheet where all the tasks are listed within their respective phase, work package, status and planned and actual dates. This workbook is meant for adding, assigning and updating the status of tasks easily.
In addition, you can also create milestones for phase closures and sign-offs within this section. A milestone can be a billable or a non-billable milestone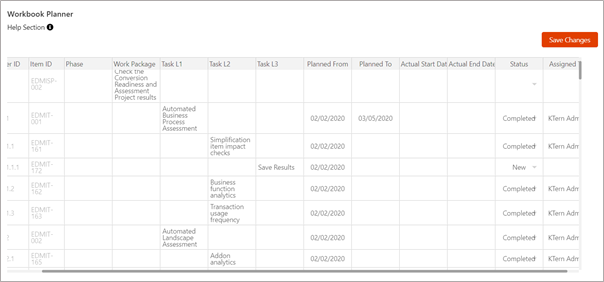 Tasks
KTern.AI is built on the SAP Activate framework. It is the heart of KTern. Hence, each task is categorized under its respective phase and sub-phase of the Activate methodology. Whenever, a task is launched, you will be taken to the task wizard. One of the differentiating factors of KTern is its Knowledge base.
Each task contains its dedicated S/4HANAPEDIA knowledge base. The objective, recommended procedure and the expected result are clearly described for each and every task, work package and phase. Thus, even a relatively less-experienced SAP consultant can perform these tasks with ease. In addition, KTern automatically provides value components, useful resources and links for each task in one single place to make everyone's life easy. In the Task Wizard, users can also add stakeholders, view the planned vs actual dates, work item hierarchy and also have a look at all the files and discussions that have taken place in the forum.
The 'all Tasks' page contains a repository of all the tasks in the project. You can create a new task from this page and it will be incorporated automatically in the project plan. It also provides the analytics of the tasks. Approvals of these tasks can be done only by the manager, thus providing complete governance and transparency in the project.
Hence, to sum up the task wizard, it has the following features:
Intelligent task knowledge base
Automata launchpad
Document management
Task history auto-tracker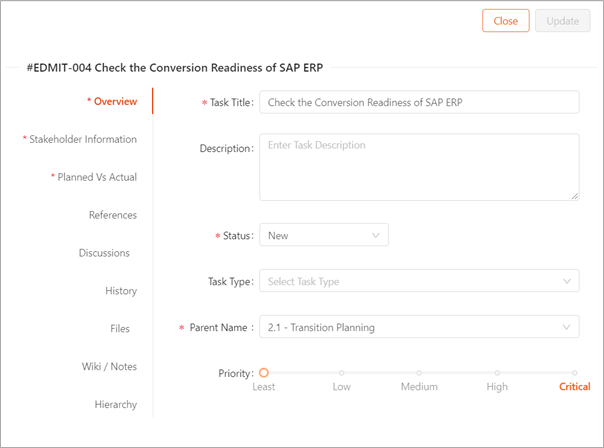 Issue Tracker
Creating an issue in KTern is similar to creating a task. There is a separate issues repository from where you can create issues/defects related to test cases or a general issue linked to any task. While creating an issue, you can assign stakeholders, planned vs actual dates and map the issue to a particular parent task. Therefore, in this way, KTern provides a way for all the project managers and key stakeholders to operate from one place and one place only.
KTern also captures the history thereby enabling you to track all the changes which have been made to that test case since it was created. You can also raise the issue to SAP directly from KTern itself.
Issues has the following features:
Intelligent issue knowledge base
Defects auto-handling
Document management
Issue history auto-tracker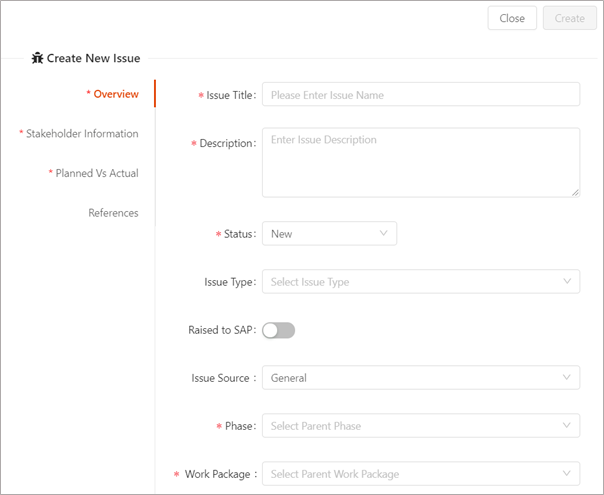 Test Cases
You can also create test cases from the Project Hub. The test case creation and execution is part of the Digital Labs of KTern and is explained in detail in this article.
All the issues, tasks and test cases can be exported in the form of an excel sheet.
Calendar
The Calendar provides a view of all your tasks, issues and test cases and their respective statuses in a calendar view.
In addition, you can also create Events within KTern itself. You can link these events to a particular task or work package, invite participants and set up recurring meetings. You can also create meeting notes and assign CTAs from within the event. This eliminates the need for disparate mail threads, zoom calls and Microsoft meetings.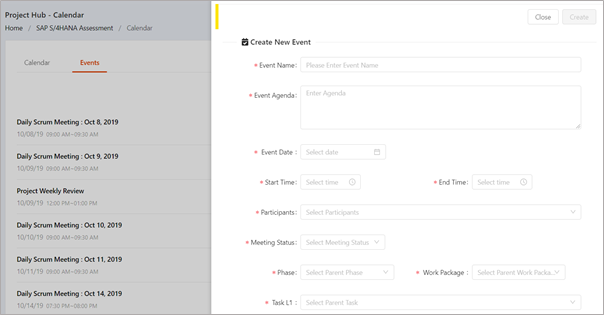 Document Repository
The main objective of the files/document repository is to have all the project related files and documents in one single place within KTern. In this way, the entire knowledge and information regarding the project can be found by anyone, accessed from anywhere in one single place.
The document repository contains:
Auto-organized document repo
Work item files auto-manager
Meeting files auto-manager
Charter files auto-manager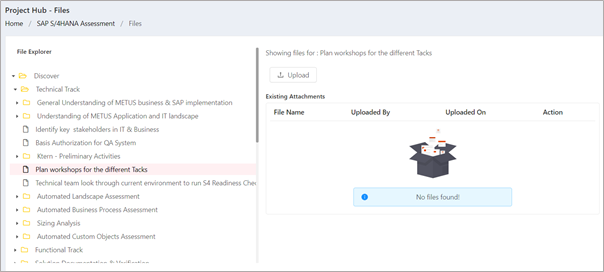 Forum
The Enterprise forum is more like Facebook where all the project members can have discussions regarding the happenings of the project. It has the following features:
Global discussion forum
Work item conversations
Auto announcements and posts
Automata collaboration
Sign-Off Wizard
An SAP S/4HANA migration project is a complex one and involves a lot of ambiguity. Hence, sticking to the timelines of the project and ensuring the correct sequence of tasks is essential for the success of the project. The sign-off wizard of KTern helps in systematic approval of various phases and ensuring that the system goes live as per the plan.
KTern allows you to create multiple sign-off groups and items. You can then map multiple tasks, issues and test cases under each sign-off item. The respective stakeholders can approve these sign-off items hierarchically. There is one root node from which sign-off items can be created for each scenario and sub-scenario. Then, the consultants, ABAPers, testers, department heads, project managers and project champions from both the system integrator side and the customer side can approve these sign-off items. This ensures complete visibility and transparency. Also, there will be fewer problems during cut-over orchestration.
The sign-off wizard has the following features:
Sign-off approval auto-orchestrator
Sign-off stakeholders management
Compliance checks
Q-gate validation and phase closures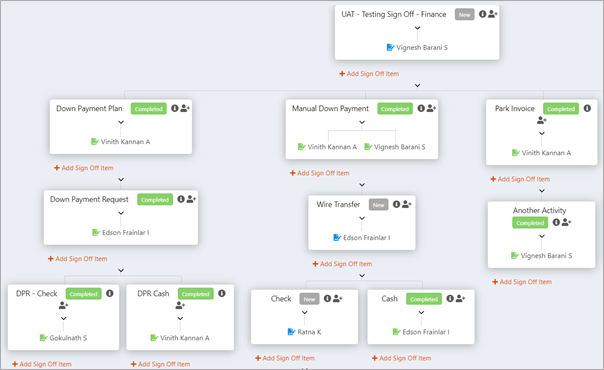 Dashboard
The dashboard contains the analytics of the work items which can be viewed as per the different phases, work packages, status of the work items, stakeholder, modules and business processes. Thus, the project manager can have a clear view on the happenings of the project.
The Dashboard has the following features:
25+ KPIs based dashboard and workspace
Automated charter, test, meeting reports
Resource utilization tracker
Overdue alerts and risk insights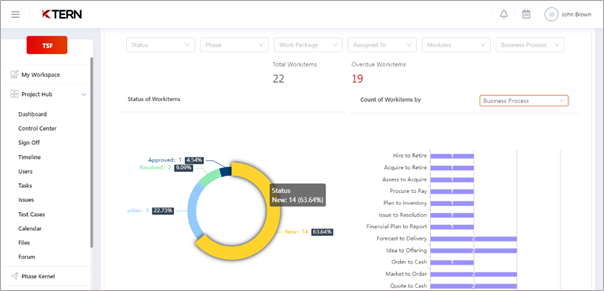 KTern also provides a Resource Utilization chart. This chart has the list of all the stakeholders along with the status of their respective workitems. This makes the project manager's job easier and be well-informed of any discrepancies and timeline lag in the project.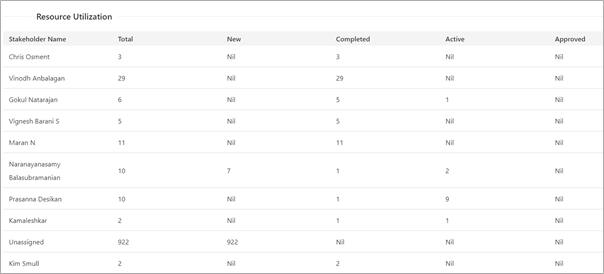 Integrations
Integrated with KTern.AI Digital Labs for tracking SAP test activities
Integrated with KTern.AI Digital Process for streamlining process implementation
Integrated with KTern.AI Digital Mines for orchestrating business productivity
Integrated with KTern.AI Digital Maps for rapid transformation project setup
Conclusion
As the future moves towards digital disruption, organizations are under immense pressure to adopt the latest innovations in the tech space. However, automation, collaboration and efficiency are the key to success of any Digital Transformation initiative.
Having conversations on four different platforms will eventually drag down productivity and in turn the efficiency. On the other hand, a well-thought collaboration strategy leads to faster adoption, positive and improved digital culture and ultimately leads to success of the Digital Transformation initiative.
KTern's Digital Projects, specifically built for SAP S/4HANA Digital Transformations, provides a single holistic platform to collaborate and govern during the entire course of the project. All the members involved, starting from the technical consultants, functional consultants, and  testers to the project managers and key stakeholders can collaborate in one single platform to ensure the success of the S/4HANA migration.
So, what are you waiting for? You can get started and create your own project in KTern by logging in at Demo App
Alternatively, if you would like a guided demo of the product from one of our product engineers, kindly get in touch with us by submitting a message