Why opt for Application rationalization during SAP S/4HANA Migration?
Table of contents
Introduction
There is one more important metric that organizations should consider before moving to SAP S/4HANA. And, that is Application Rationalization.
The Digital Core acts as single source of information interconnecting all aspects of the digital value chain in real time through a micro-services architecture.
The total cost of ownership would drastically come down if you have a Digital Core in place.
Digitization makes it possible to access and use detailed data between interconnected applications from anywhere in real time without information loss.
Application Rationalization
Application rationalization is the practice of strategically identifying business applications across an organization to determine which applications should be kept, replaced, retired or consolidated.
Case Study
This is a really interesting case study about Application Rationalization of one of Kaar Tech's customers .
Existing System Background :
The Customer existing configuration consisted
SAP ECC as the Core
Workday for Finance, HR and Planning
Blackline for Accounting and Finance
Kinaxis for Supply Chain Management
IBM Maximo for Asset Management
In addition, their ECC system was also integrated to SAP Supplier Relationship Management (SRM), SAP Business Planning and Consolidation (BPC), SAP Ariba, SQL Server and FactoryTalk.
This was making life much more difficult to even manage such a heterogeneous landscape.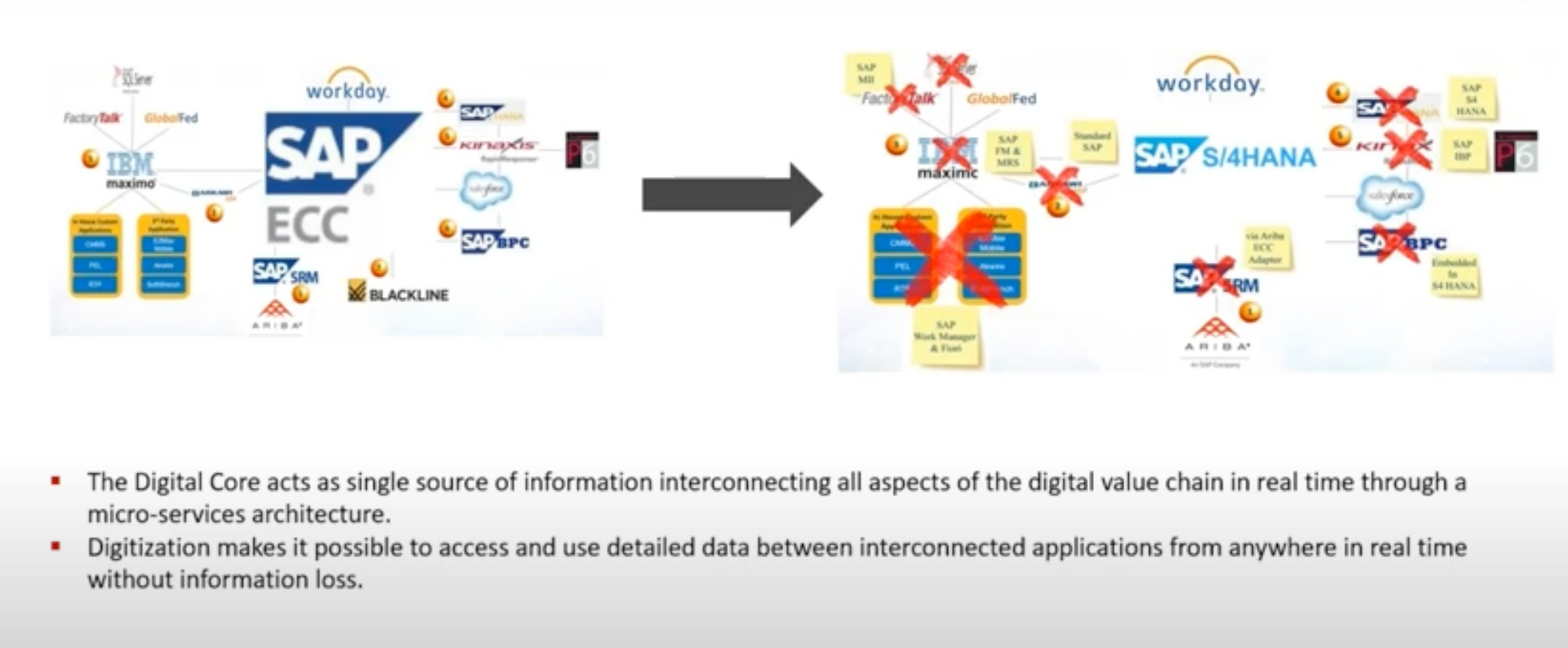 Post Migration to SAP S/4HANA
Now, when we migrated the entire system to the Digital Core, SAP S/4HANA, some these applications completely disappeared.
For example, SAP SRM, BPC, BI/BW, Kinaxis, Blackline, Maximo became redundant and disappeared from the landscape.
Thus, the resulting landscape consisted of SAP S/4HANA with Workday, SAP Ariba and SAP Integrated Business Planning (IBP).
So, the fundamental idea was to merge everything into SAP S/4HANA itself, thereby bring a lot of standard functions into the Digital Core itself.
Evidently, Application Rationalization is another very important point to consider. When an organization has 12 to 15 different components or applications, they should consider bringing it down to a manageable 4 to 6 applications from a futuristic standpoint.
A fully digitized core, completely enabled with micro-services architecture makes for a relevant business case considering the long term impacts of the amount/ cost that would be spent in maintaining, upgrading and managing the applications.
Schedule a guided demo for an express session on the role and value of KTern for SAP S/4HANA Conversion and a demo of the All-in-One SAP S/4HANA Conversion Accelerator.