Why and how you should analyze your SAP Business Functions before making the move to S/4HANA?
As the first step to move to SAP S/4HANA, you must assess your SAP ECC landscape. The assessment will help you to build a business case, plan the migration and eliminate surprises during the transition. KTern's accelerated SAP S/4HANA assessment performs a complete scan of the system and analyzes it with respect to the business functions, add-ons and industry solutions. It is necessary to determine the compatibility of the business functions and add-ons before moving to S/4HANA.
In this article, we will explain why and how KTern analyzes the SAP business functions in an ECC landscape. It also provides a detailed report before you make the move from SAP ECC to S/4HANA.
What are SAP Business Functions and Business Function Sets?
Business Functions
SAP provides new features and enhancements for the existing SAP installations in self-contained units called business functions. You can use them for your various business processes. You can either switch on or switch off a business function. However, you cannot undo the activation of a business function.
For example, consider a certain business function to be part of an enhancement package. That business function can enable you to run your business better, but you don't want to use all the functions of that enhancement package. Hence, you should install only the technical components required for that business function. After installation, you should activate only that particular business function.
Business Functions Set
A business function set is nothing but a group of business functions.
There are two types of SAP business function sets:
The business function sets are classified according to the industry. There is at least one business function set for each industry. It contains all the business functions that can be used for a particular industry solution in one instance. These modifications are also available in S/4HANA.
There are general business function sets which contain the enterprise business functions and the enterprise extensions. They are mostly used for standard functions like Accounting, Logistics, Human Capital Management and other related modules.
KTern's Business Function Analytics
KTern  is an  all-in-one  product  suite  built for SAP Digital Transformations. With decades worth of SAP Tribal knowledge combined with automation, governance and collaboration capabilities,  KTern  is built to help the existing ECC customers migrate to S/4HANA before 2027.  KTern  covers the entire lifecycle and guides you before, during and after the conversion.  Its inbuilt S/4HANAPEDIA rule engine combined with the 12 modules eases the transition from SAP ECC to SAP S/4HANA.
Before migrating to SAP S/4HANA, it is mandatory to assess the existing ECC landscape including your business processes, business functions, custom codes, architecture, and user interface. This enables you to take a data-driven approach to S/4HANA.
KTern's Business Function Analytics feature analyzes all the business functions installed in an ECC system in the Discover phase itself.
It then classifies them into active and inactive business functions. The main objective of this feature is to analyze the impact of migrating these active business functions to S/4HANA. If any critical active business function is not compatible with S/4HANA, then you cannot migrate to S/4HANA.
Business Function Analytics is part of the Impact Analysis module of KTern.
Features of KTern's Business Function Analytics
KTern automates the process of analyzing business functions. After connecting the system, KTern runs the business functions analytics check and automatically classified the installed business functions into active and inactive business functions.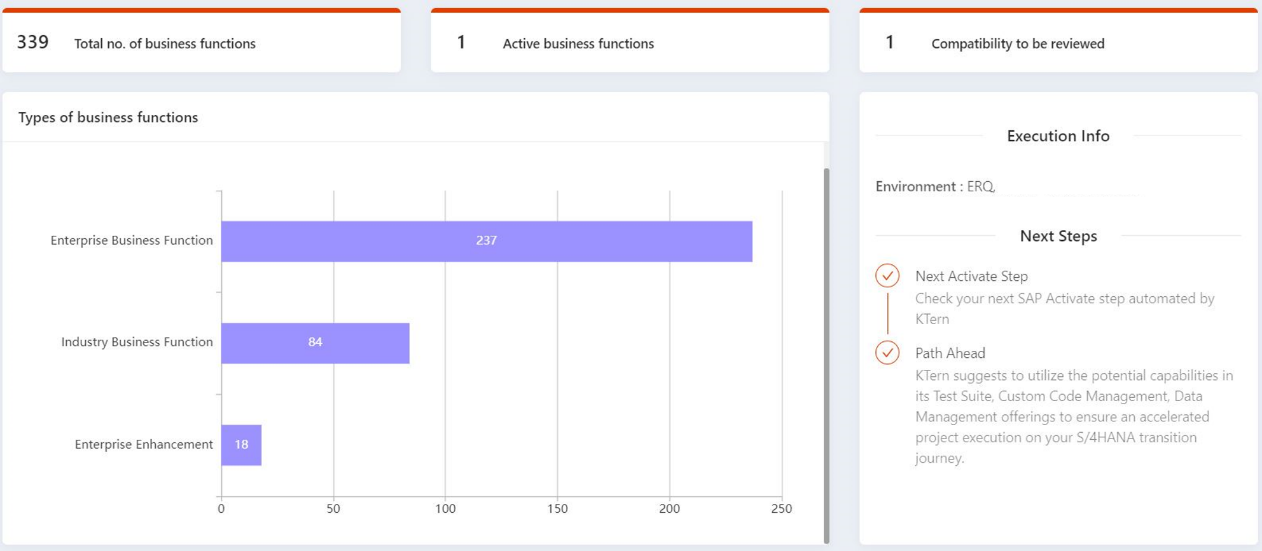 KTern also classifies the business functions into the following types:
Enterprise Extensions:
These are the type of business functions which activate industry-independent and industry-specific applications and business processes.
Enterprise Business Functions:
They can activate special features in SAP S/4HANA. They contain both industry-specific and industry-independent enterprise business functions.
Industry Business Functions:
They contain functions specific to a particular industry and are part of the industry business function sets.
After classifying the business functions into the above classifications, KTern also analyzes whether the business functions are compatible with S/4HANA or not. In addition, you can also sort and search the business functions according to the status, compatibility and types of business functions.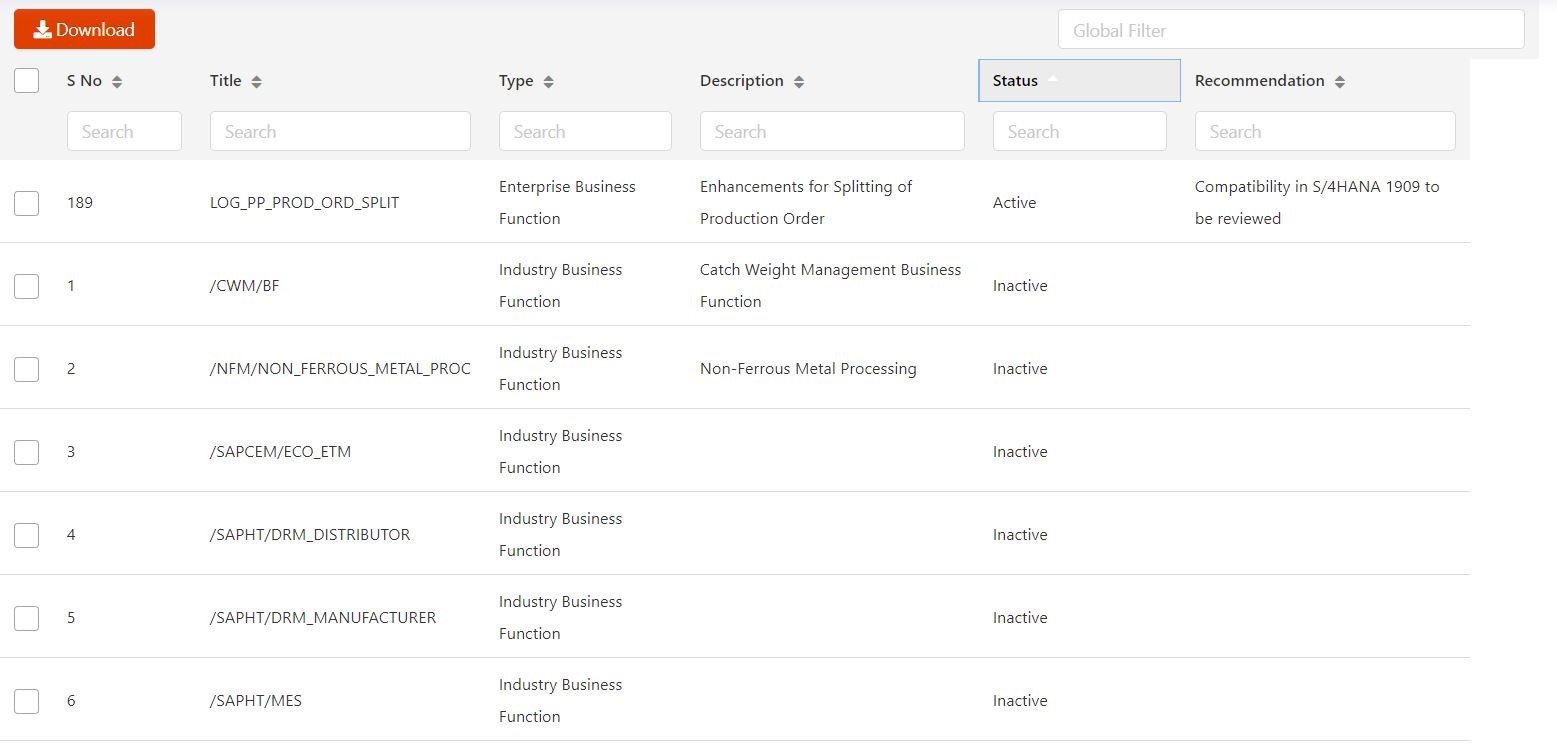 Inferences from SAP Business Functions Analytics check
A business function in SAP ECC can have only two states, Active (ON) and Inactive (OFF).
However, a business function usually has one of the following three states in S/4HANA:
Always ON
Always OFF
Customer Switchable
| SAP ECC State | SAP S/4HANA State | Is Conversion Possible? | New State |
| --- | --- | --- | --- |
| ON | Always OFF | NO | - |
| OFF | Always ON | YES | ON |
| ON | Customer Switchable | YES | ON |
| OFF | Customer Switchable | YES | OFF |
The above table indicates the various permutations and combinations with respect to the status of each business function.
The following inferences can be made from the above table:
If a business function is switched on in your SAP ECC landscape, but the corresponding S/4HANA state is always OFF, then you cannot go for conversion. You will have to wait until SAP makes the business function compatible with S/4HANA or release a patch or have a look at the roadmap and then plan the transition.
If a business function is switched off in the ECC system, but the corresponding S/4HANA is always ON, then the conversion is possible and the business function will be switched on after the transition. You will have to assess the implications of such a business function being switched on in S/4HANA.
If the business function state in S/4HANA is customer switchable, then the conversion is possible and the state of the business function remains the same as before the transition, i.e these business functions keep their state after the conversion.
KTern makes this entire process simple by identifying the state of the business functions in SAP ECC and analyzing whether the functions are compatible with S/4HANA or not. With this information, the solution architects and the respective functional consultants can make the above inferences with ease.
How is KTern's SAP Business Function Analytics different from its competitors?
Business Function analytics is one of the crucial steps in an SAP S/4HANA assessment. The reason being, if any of the business function is incompatible, then the whole conversion process will be on hold. SAP's Readiness Check 2.0 also provides business function analytics.
Where KTern's business function analytics differs from that of SAP's Readiness Check is that KTern provides additional information on the incompatibility of the business function. Readiness Check only assesses the compatibility of a particular business function. But KTern assesses the compatibility, provides information on why a particular business function is incompatible, and where the business function is in SAP's roadmap. This additional information enormously helps the functional consultants, solution architects and key decision-makers in planning the move to S/4HANA and ultimately reducing the risks during the transition.
Next Steps
Now that you know how to automate the SAP Business Functions analytics in KTern and the deductions you can make out of it, you might want to get a first-hand feel of KTern and its other features which help automate and govern SAP projects from start to finish. You can get started with the same at  Getting Started. Alternatively, if you would like a guided demo of the product from one of our product engineers, kindly get in touch with us by submitting a message at  Contact Us.