SAP ECC vs SAP S/4HANA – Overview, Difference, Business Benefits, and more
SAP ECC vs SAP S/4HANA – Overview, Difference, Business Benefits, and more
SAP is a German multinational corporation which has been creating enterprise software since 1972 to manage business operations and customer relationships. It is especially known for its Enterprise Resource Planning (ERP) software which has been trusted by organizations across the globe. R/1, R/2, R/3, ECC, and S/4HANA – These are the different SAP ERP software which have been made available by SAP over the years. SAP ECC ERP is the most used SAP ERP software now.
However, this is going to change. SAP has decided that SAP S/4HANA will be their primary ERP offering moving forward and that SAP ECC will go out of maintenance by 2027. There are a lot of questions which are resonating across the SAP ecosystem.
What is SAP ECC? What is SAP S/4HANA?
How is SAP S/4HANA different from SAP ECC (SAP ECC ERP vs SAP S/4HANA ERP)?
What are the business benefits of SAP S/4HANA?
What is the first step in moving from SAP ECC to SAP S/4HANA?
Here's what we will be focusing as part of this article.
Table of contents
Try a whole new experience of hearing this article on our podcast episode :
What is SAP ECC?
SAP ECC which stands for SAP ERP Central Component is the previous generation of SAP's enterprise resource planning software. SAP ECC has multiple modules linked together into a single, customizable system which can be run on a database of the user's choice. An organization using SAP ECC would be able to optimize its business operations across Finance, Logistics, HR, Product Planning, and customer service.
SAP ECC is heavily modular. Businesses can use the pieces they need and configure the pieces as required by their landscape. SAP ECC can also work with third-party or customized applications on a customized technology stack. However, this flexibility brings complexities. Since each part of the landscape interact with one another, a change in one part can and will affect how other parts function. Therefore, it is important to meticulously test your landscape before rolling out any change such as enhancements, add-ons, customizations, or upgrades.
It is also important to know that SAP ECC has reached the end of the line. SAP is planning to end support for SAP ECC by 2027. They are already in the process of phasing out ECC and are promoting the move for SAP ECC users to SAP S/4HANA.
What is SAP S/4HANA?
SAP S/4HANA is short for SAP Business Suite 4 SAP HANA. It is the latest ERP offering from SAP and is based on the SAP HANA in-memory database to help organizations execute transactions and analyze business data in real-time. It is the fourth version of the SAP Business Suite and is designed to run only on SAP HANA.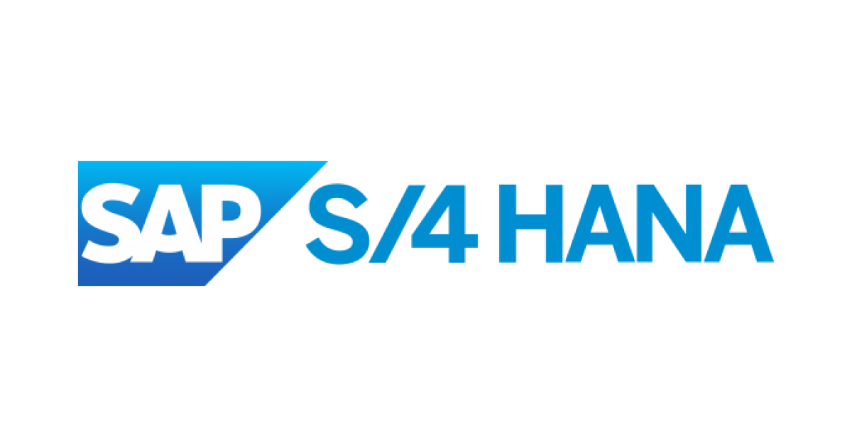 With a refreshing user experience powered by Fiori, embedded real-time analytics, and HANA powered in-memory processing to handle large data volumes of operational and transactional business data, SAP S/4HANA is intended to help organizations run simpler and faster with better efficiency. In addition, SAP S/4HANA solves batch latency, manually driven processes, data sprawl – problems which have been present in traditional ERP systems.
SAP views SAP S/4HANA as one of its flagship products and is heavily pushing it to be the successor for SAP ECC. As discussed before, they are promoting SAP S/4HANA as the go-to solution for existing SAP ERP customers and are hoping to move the 40000+ SAP ECC users to SAP S/4HANA by 2027.
How is SAP S/4HANA different from SAP ECC? (SAP ECC ERP vs SAP S/4HANA ERP)
Let's cover the key differences between SAP ECC ERP and SAP S/4HANA ERP across different parameters.
The Universal Journal – The Single Source of Truth
SAP S/4HANA combines the data structures of FI, AA, CO, CO-PA, and ML into a single line item table called ACDOCA. This ACDOCA is also referred to as the Universal Journal and it eliminates many aggregate tables and index tables. In addition, the data footprint is significantly reduced since data needs to be inserted into only a single table instead of several tables.
MATDOC – A New Line Item for Inventory Management
MATDOC is new line item in SAP S/4HANA for inventory management and it eliminates more than 26 tables which were previously present in SAP ECC. In SAP S/4HANA, material documents are stored in MATDOC but not in MKPF or MSEG tables.
The New and Innovative HANA Database
SAP ECC can run on third-party databases such as Oracle, IBM DB2, etc. However, SAP S/4HANA can run only on the SAP HANA Database. SAP S/4HANA is designed with SAP HANA and its in-memory computing capabilities in mind and provides multiple benefits.
HANA enables in-memory computing. This enables the data to be read directly from the memory. This means that data always resides in the main memory RAM even through write operations happen in the hard disk. Therefore, SAP S/4HANA reads data much faster than traditional ERPs since the HANA database reads data much faster than traditional databases.
SAP S/4HANA can access column-based tables faster since only affected columns are read in a query.
SAP S/4HANA enables better compression since there only few distinct values compared to rows.
SAP S/4HANA enables parallel processing since different columns can be processed parallelly.
With SAP S/4HANA powered by SAP HANA, Online Transactional Processing (OLTP) and Online Analytical Processing (OLAP) can happen in the same system. This enables real-time reporting and predictive analysis.
SAP S/4HANA will not have aggregates, index, or history tables. This is because aggregates are created dynamically based on line item tables instantaneously.
CO & FI Merger
In SAP ECC, the FI general ledger (GL) accounts are mapped to CO primary cost elements. In SAP S/4HANA, the GL accounts and the cost elements are stored in one field of the Universal Journal, the ACDOCA. Primary and Secondary cost elements are now general ledger (GL) accounts and are created and maintained in FS00 with the relevant cost element category. Reconciliation as in the case of CO to FI is no longer needed and period end closings are now faster thanks to the changes in SAP S/4HANA.
A New General Ledger
Due to the data structure, the new general ledger in SAP S/4HANA is technically like the general ledger in SAP ECC. However, customers using the classic general ledger will have to adopt the new general ledger and its Parallel Ledger Functionality for new Asset Accounting.
Change in CO Profitability Analysis (CO-PA)
Unlike SAP ECC, Account Based CO-PA is the default option in SAP S/4HANA while costing-based CO-PA is now available as an option. In addition, SAP S/4HANA also permits both the options to be run simultaneously.
Change in Custom Code
Custom Code read operations will be redirected to compatibility views through a special setting at the database interface level so that the custom code can work without disruption. This means that it will be invisible to the source code.
Example: V_COEP for the CO line item table COEP.
Business Partners are now mandatory
In SAP ECC, Business Partners were optional. However, in SAP S/4HANA, the Business Partners concept is mandatory. All customer and vendor master must be migrated or integrated as business partners in SAP S/4HANA. Therefore, Custom Vendor Integration is a mandatory step in SAP S/4HANA.
Material Number Extension
In SAP ECC, the material number had a character count of 18. In SAP S/4HANA, the character count has been extended to 40 characters. However, this is an optional feature. It is also worth noting that the impact of this extension on custom code, interfaces, and other SAP applications must be evaluated before using the 40-character extension by switching it on.
Credit Management
SAP ECC had FI-AR-CR for credit management. In SAP S/4HANA, this is replaced by credit management of FSCM (Financial Supply Chain Management). The credit management of FSCM (FSCM-CR) has a distributed architecture which allows interfacing with external credit rating agencies. The traditional FI-AR-CR credit control setting requires a lot of manual work.
In SAP S/4HANA, FSCM-CR removes this effort with the help advanced features such as
Credit Rule Engine automated risk scoring and credit limit calculations
Automated Master Data Update on approval of credit limit
Workflows for credit events
ATP Innovations
SAP ECC provides an option for availability check at individual requirements or for summarized requirements which are aggregated at daily or weekly levels. In SAP S/4HANA, it is only possible to perform an availability check at individual requirements with no VBBS table since SAP S/4HANA does not have aggregate tables due to simplified data models
Pricing in SD
There are changes in the data models of pricing and conditioning techniques. For example – The existing Table KONV is replaced by new table PRCD_Elements with extended fields. There are more changes as well
Real Time MRP (Material Requirement Planning) and more
SAP ECC requires batch jobs to be run during non-peak hours to process material requirement planning (MRP). The game changes in SAP S/4HANA. There is no need for batch jobs since MRP can be executed in real-time. In addition, MRP with subcontracting has also been simplified in SAP S/4HANA.
It is important to note that MRP can be executed at the plant and MRP area level only. It cannot be run on the storage level. In SAP ECC, MRP at the storage locations can be excluded or can be planned separately. SAP usually suggests using the MRP area along with the MRP type for the scenarios at the storage location level.
SAP Advanced Planning Optimizer (SAP APO) Features in SAP S/4HANA
SAP has integrated SAP APO's Production Planning and Detail Scheduling (PPDS aka PP/DS) and Global ATP (GATP) into the SAP S/4HANA Core.
Introduction of Global Trade Services
The foreign trade functionalities which were present in SAP ECC are replaced by the Global Trade Services (GTS) in SAP S/4HANA.
Some of the advanced features in GTS are –
Sanctioned Party List Screening (SPL)
Automatic Embargo Checking. This procedure which was manual in SAP ECC.
Automated and Simplified License Checks. This procedure was manual and quite complex in SAP ECC.
Automated import and export declarations
Material Ledger is Mandatory
In SAP ECC, the material ledger (ML) was optional. However, not many companies implemented the material ledger in SAP ECC due to considerations surrounding performance, effort, and aggregate tables. In SAP S/4HANA, it is mandatory to activate the material ledger. But the adoption of the material ledger has been smooth in SAP S/4HANA. This is because the considerations which were prevalent in SAP ECC are now alleviated thanks to the simplified data models in SAP S/4HANA and the Universal Journal, the ACDOCA.
The benefits of using the Material Ledger in SAP S/4HANA are –
1. Multi-Currency Valuations
One innovative feature of the material ledger in SAP S/4HANA is that it evaluates the inventory in multiple currencies. In SAP ECC, the inventory is evaluated using a single currency. The Material Ledger in SAP S/4HANA allows evaluations in two additional currencies.
2. Multi-Valuations
The material ledger enables three different valuation options for a corporate group operating in multiple countries. These are Legal, Group, and Profit Center. In general, legal valuations are stored in the local currency while the group and profit center valuations are stored in the group currency. Parallel valuations help with transfer pricing for the internal sales between legal entities or profit centers within the group for worldwide supply chain. If a product is assembled in one country with parts which are produced or procured from units of the same group operating in different countries, the final cost price could become very high due to the internal profits in cross-company sales. Multi-Valuations will help to reduce the final cost price by eliminating the internal profits from cross-company sales in MNCs.
3. Actual Costing
Inventory and Material movements are usually valuated at the standard price which is constant over a period of time or moving average price which gets dynamically adjusted / calculated based on every goods receipt or invoice receipt. Each method has its own merits and demerits. This is where actual costing in SAP S/4HANA makes a huge difference. Actual costing combines the advantages of using standard price with the advantages of using moving average price. The Material Ledger captures all price variations such as purchase price variations & production variances and allows revaluation of the ending inventories at period end as optional period end activity to release it as standard price for the next period.
4. Introduction of SAP Revenue Accounting and Reporting
SAP ECC's SD revenue accounting is no more. SAP Revenue Accounting and Reporting takes its place instead in SAP S/4HANA. This is primarily due to the new accounting standard which was released jointly by the Financial Accounting Standards Boards (FASB) and the International Standards Boards (IASB). The new guideline is also present in the IFRS released in 2014. SAP ECC's SD revenue recognition works by the Generally Accepted Accounting Principles (US-GAAP), the International Accounting Standards (IAS), and the Financial Reporting Standards (FRS).
It provides the three options to recognize revenue.
1. Revenue recognition based on events such as Goods Issue, Proof of Delivery, etc.

2. Revenue Recognition over a period of time.

3. Standard Revenue Recognition based on billing. 

The new standard introduces the five step model.
The five steps are as given below.
1. Identify the contract.
2. Separate Performance Obligations 
3. Determine Transaction Price
4. Allocate Transaction Price 
5. Recognize Revenue 

SAP Revenue Accounting and Reporting is a part of SAP S/4HANA and it accommodates the changes in IFRS 15 and also meets the requirements of parallel accounting and cost recognition.
5. Settlement Management Replaces SD Rebate Processing
In SAP ECC, rebates are handled by SD rebate processing. In SAP S/4HANA, rebates are handles by Settlement Management through Condition Contracts.
Output Management
In SAP ECC, the message determination was based on NAST table. Business Rule Framework Plus (BRF+) replaces this in SAP S/4HANA. The target architecture is now based on Adobe Document Server and Adobe Forms only.
Introduction of Extended Warehouse Management
The Extended Warehouse Management Module in SAP S/4HANA replaces the Warehouse Management Module in SAP ECC. The EWM Modules can be natively integrated in SAP S/4HANA or adopted as a decentralized sidecar deployment.
Some of the key benefits of using EWM over WM are
Complex warehouse processing through process oriented storage control (POSC).
Improved and easily customizable RF functionality
Value added services like kitting, enhanced wave & replenishment processes
Labour Management
The above parameters cover most of the key differences between SAP ECC and SAP S/4HANA. But do these differences result in business benefits?
What are the key business benefits of moving to SAP S/4HANA?
SAP S/4HANA is a revolutionary new ERP which relies on the in-memory computing powers of the SAP HANA database, simplified data models, and a refreshingly new user experience. Some of the key business benefits are -
Simplification of business processes to drive them in real time by eliminating background jobs and aggregate tables
Improved performance planning, execution, report generation, and analytics based on live business data
Triggered period closing and improved business predictions
Simplification of the entire IT landscape
Reduced total cost of ownership
Reduced data footprint
Ability to work on large data sets in one system – thus saving hardware costs, operational costs, and time
Innovation with the help of an open platform to drive advanced applications which can help to predict, simulate, and recommend business operations while also safeguarding existing investments
Rethinking, reengineering, and reinventing of business processes
Faster decision making with real-time insights on business data
Ability to reach customers through any channel for delivering value
Improved revenue and profits through faster and better business operations enabled by speed, context, and data accessibility
It is clear why SAP is pushing SAP S/4HANA as one of its primary ERP offerings, why SAP ECC will no longer be supported after 2027, and why SAP ECC users should move to SAP S/4HANA., isn't it? So, now, let's see what are the first steps in moving from SAP ECC to SAP S/4HANA?
What is the first step for moving from SAP ECC to SAP S/4HANA?
Building a coherent business case is the first step for any SAP ECC to SAP S/4HANA transition. It is important to build the business case well ahead of the move – at least a year in advance. Waiting will have you pay the cost of indecision, higher S/4HANA license costs, and a rushed S/4HANA migration which carries a high risk for failure. While building the business case for S/4HANA, identify where you are going and what you will get by going there. Focus beyond savings to understand innovation, value, and the business and IT benefits. It is also important to discover the scope & scale of the project activities.
But, how can you ensure the right budget, effort, expertise, man-hours, project plan preparation, and project execution?
How to Start the Move from ECC to S/4HANA?
The answer lies in your SAP ECC system. This is because the "to-be" state of your S/4HANA system is directly dependent on the "as-is" state of your ECC system. But, how do you get the answer? You get the answer by completing a comprehensive readiness assessment or study of your SAP ECC system, preferably with KTern.
KTern is a product built for SAP S/4HANA Digital Transformation. It helps customers before the migration, during the migration, and after the migration with the help of the SAP Activate Project Management framework, the "S/4HANAPEDIA" automation rule engine, a next-gen collaboration platform, and future-ready machine learning algorithms.
Before the migration, KTern helps to solidify the business case and provides an auto-generated organization specific blueprint for ECC to S/4HANA migration. This is provided by completing a comprehensive automated SAP S/4HANA readiness assessment within 24 hours. This blueprint will help you define the right plan, the right effort estimate, the right system sizing, the right execution, the right project management, and the right quality for your ECC to S/4HANA transition.
Simply put, The KTern ECC to S/4HANA Readiness Assessment Report is like an SAP S/4HANA Readiness Check Report on steroids. It provides a wide range of readiness assessment results to sketch your blueprint and resolves many pain points such as:
Long exhausting weeks and maybe months of assessments and preparations on what to analyze and fix
Time allocated to assessing which teams and how many people are needed from each business area in order to successfully complete the transition
Ambiguities regarding which business functions should be "On" and which business functions should be "Off" during the transition.
Time and effort involved in finding the right notes or report to run before and after the ECC to S/4HANA conversion
Endless number of sandboxes needed for trial and error due to problem-ridden mock conversions from ECC to S/4HANA
Time and effort needed to guess what to test or testing everything since "S/4HANA conversions will impact everything"
KTern provides the following through the KTern ECC to S/4HANA Readiness Assessment Report:
Conversion project roadmap
Suggested Execution plan with milestones
Effort Estimate
Project Resource Estimation from System Integrator and Customer
Simplification Item Checks
Fiori App Recommendations
Add-on Analytics
Business Function Analytics
Custom Object Analytics
Business Process Mining
User Assessment
Custom Code Clean Up Recommendations
HANA Sizing Recommendations
Business Process Analytics
BW Extractor Checks
Transport Analytics
Data Archiving Recommendations
Test Case Recommendations
Training Scenario Recommendations
The KTern ECC to S/4HANA Readiness Assessment Report will help enterprises complete their first step and get started on their roadmap from ECC to S/4HANA. And thus, having answered the questions which we started with at the beginning, we reach the end of this article.