Why should you analyse and monitor your SAP Transport requests before moving to S/4HANA

The transition from SAP ECC to SAP S/4HANA typically takes around 6 months for small enterprises and about 10 - 12 months for a large enterprise. However, during the course of the transition, will you stop using your SAP system, the lifeline of your organization? Of course, you cannot bring your daily activities to a standstill and stop making any changes to the ECC landscape.
But, SAP Transport Requests provide a way to capture all these changes. Hence, it is very essential to monitor the Transport Requests in SAP before and during the system conversion.
In this article, we'll explain how KTern.AI automates the process of Transport Request Analytics. This feature is part of the Discover phase of the Activate Methodology and is part of the impact analysis module.
Table of contents
Join us live where you can learn how to run SAP Projects in this new normal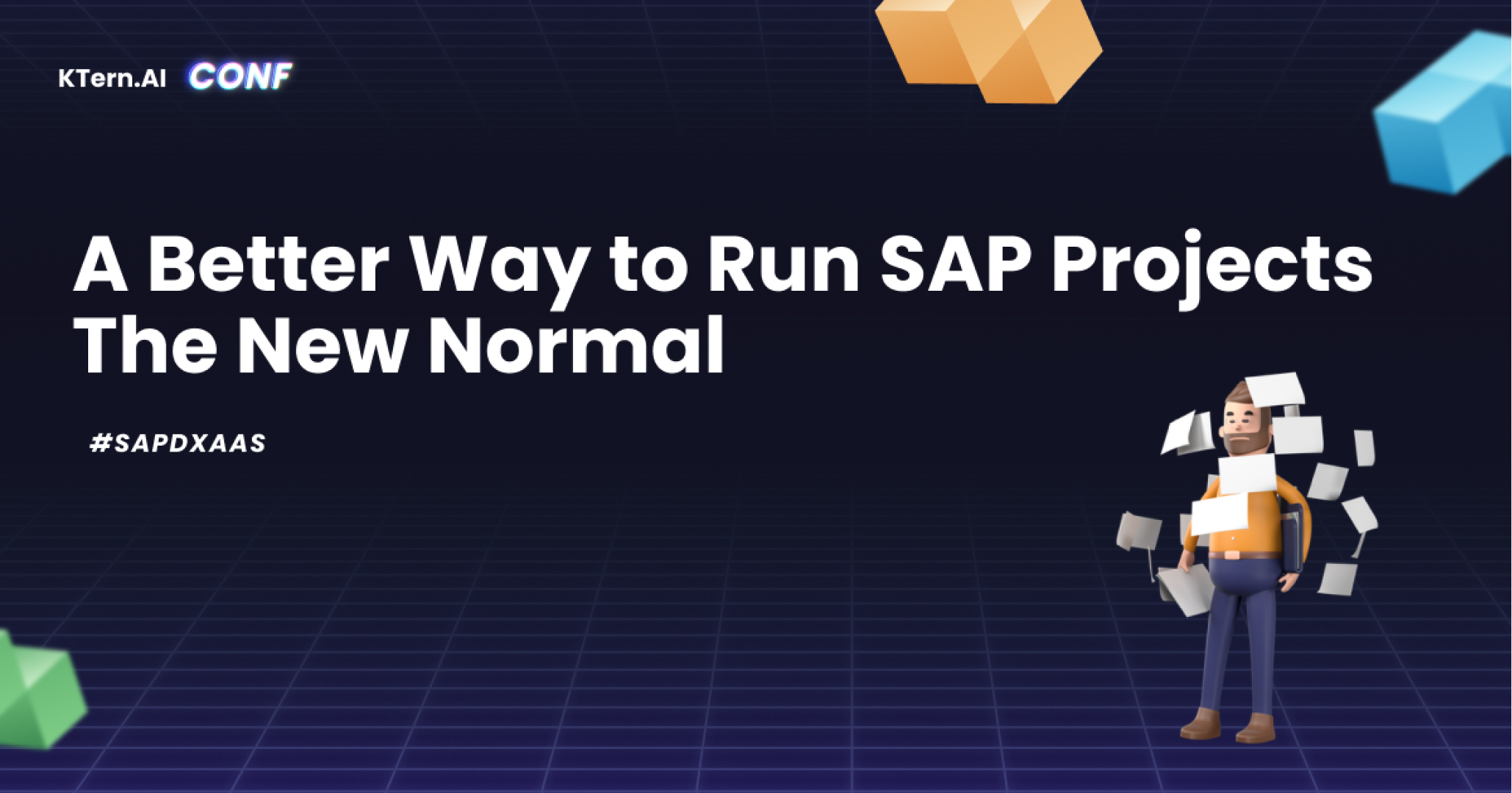 What are Transport Requests in SAP?
A Transport Request (TR) or Change Request is nothing, but a container of changes made in the development system. A Transport Request typically records the type of change, the purpose of transport, request category, and target system. Each Transport Request in SAP contains many tasks, like multiple files in a folder. You can release a TR only when you complete, release or delete all the tasks within it.
SID-K-Number
Where SID stands for System ID
K is a standard keyword.
Number can be any number starting from 900001.
Role of Transport Requests during S/4HANA system conversion
The SAP S/4HANA system conversion is a complex and tedious process with multiple mock conversion runs. A typical system conversion involves a sandbox conversion, development system conversion, quality system conversion and production system conversion.
Sandbox Conversion
Generally, a sandbox conversion takes around two to three months depending on the system complexity and takes the longest time of all conversion runs. Sandbox conversion is done on a system with production data.
A sandbox conversion helps you identify and understand the actual changes in the data model.
You may have faced several errors, installed various notes, abided by SAP's best practices during the Sandbox conversion. Additionally, you must capture all these changes and modifications in a Transport Request.
Development System Conversion
A development system conversion usually takes lesser time than a sandbox conversion. You must convert the existing ECC development landscape into S/4HANA development landscape. All the changes from the sandbox conversion are captured in the Transport Request (TR) and imported to the development system.
If not for the TRs, you will have to perform the entire check and run the SUM tool all over again.
But, you may face some additional errors and issues since it is a new landscape. These additional changes are also captured in the same TR or in a new TR.
Quality System Conversion
A quality system conversion typically takes around two weeks and the TR from the development conversion run is imported. You can execute the SUM tool and capture the additional changes in the TR. Also, several test runs (system, integration, regression, performance, user acceptance etc) are performed.
Production Conversion
In this stage, the final production landscape of the ECC system is converted to S/4HANA. The TRs from all the previous conversion runs are utilized here.
KTern.AI's Transport Request Analytics
KTern.AI is an all-in-one product suite built for SAP Digital Transformations. With decades worth of SAP Tribal knowledge combined with automation, governance and collaboration capabilities, KTern.AI is built to help the existing ECC customers migrate to S/4HANA. KTern.AI covers the entire lifecycle and guides you before, during and after the conversion. Its inbuilt S/4HANAPEDIA rule engine combined with several modules eases the transition from SAP ECC to SAP S/4HANA.
KTern.AI's TR Analytics feature automatically identifies and analyses all the transport requests in a system. It also identifies the TR movement from one landscape to another (i.e from development to quality TR movement, quality to production TR movement etc)
Features of KTern.AI's TR Analytics
KTern.AI automatically finds out the total number of Transport Requests in a system in (n) and (n-1) years. It also gives an analysis of the stakeholders who create these transport requests. As a result, this section gives you an analytical view of the Transport Requests present in the connected system.
There are three types of Transport Requests. they are:
Workbench Request: Workbench requests are cross-client. It essentially means that the changes done in one client are automatically reflected in all other clients.
Customizing Request: Customizing requests are client specific. The changes will not be reflected in other clients.
Transport of Copies: Transport of copies allows you to transport objects to any specified SAP System. It allows you to move the original location of objects to a target system.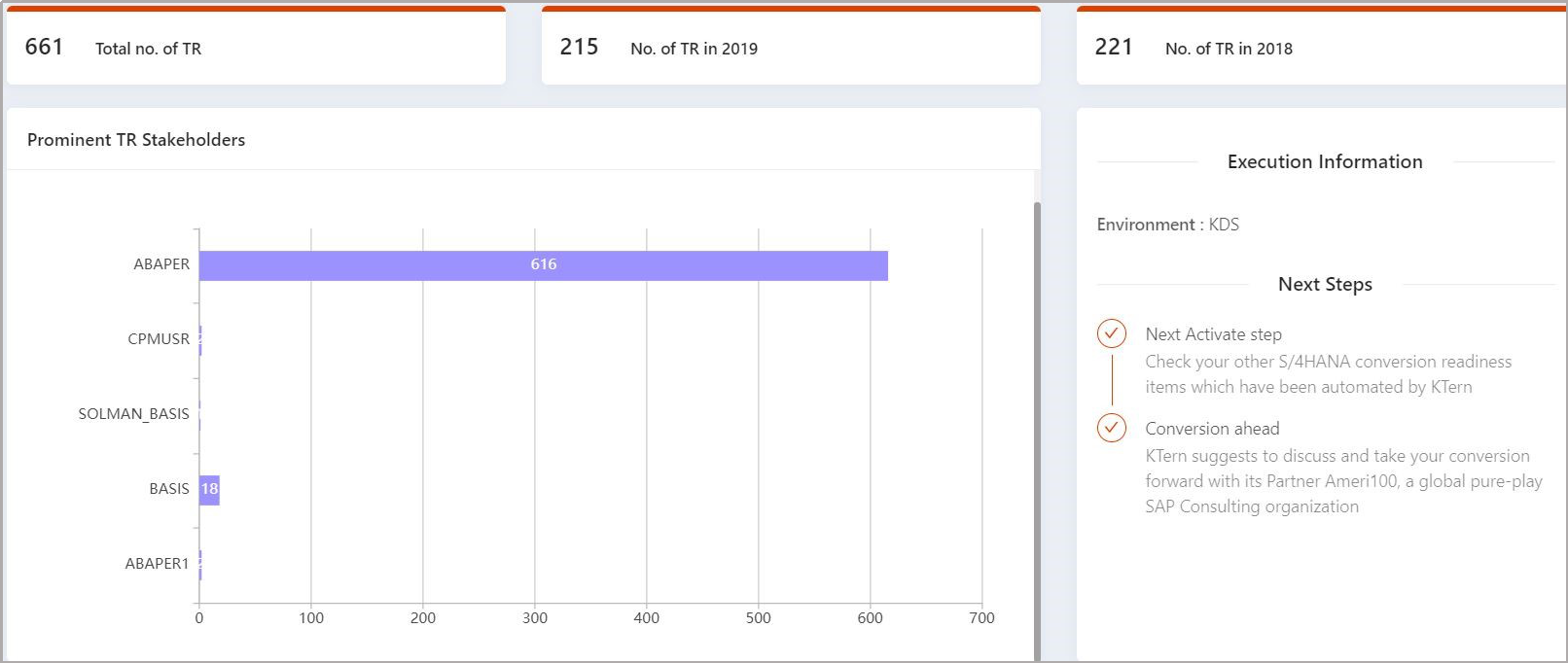 KTern.AI also categorizes the Transport Requests into seven categories:
Open Transport Requests
Top 100 Large TR Types
Transport Requests over the years
Top TR Stakeholders
Number of Transport Requests per month
Top 10 large Transport Requests till date
Top 5 stakeholders of large TR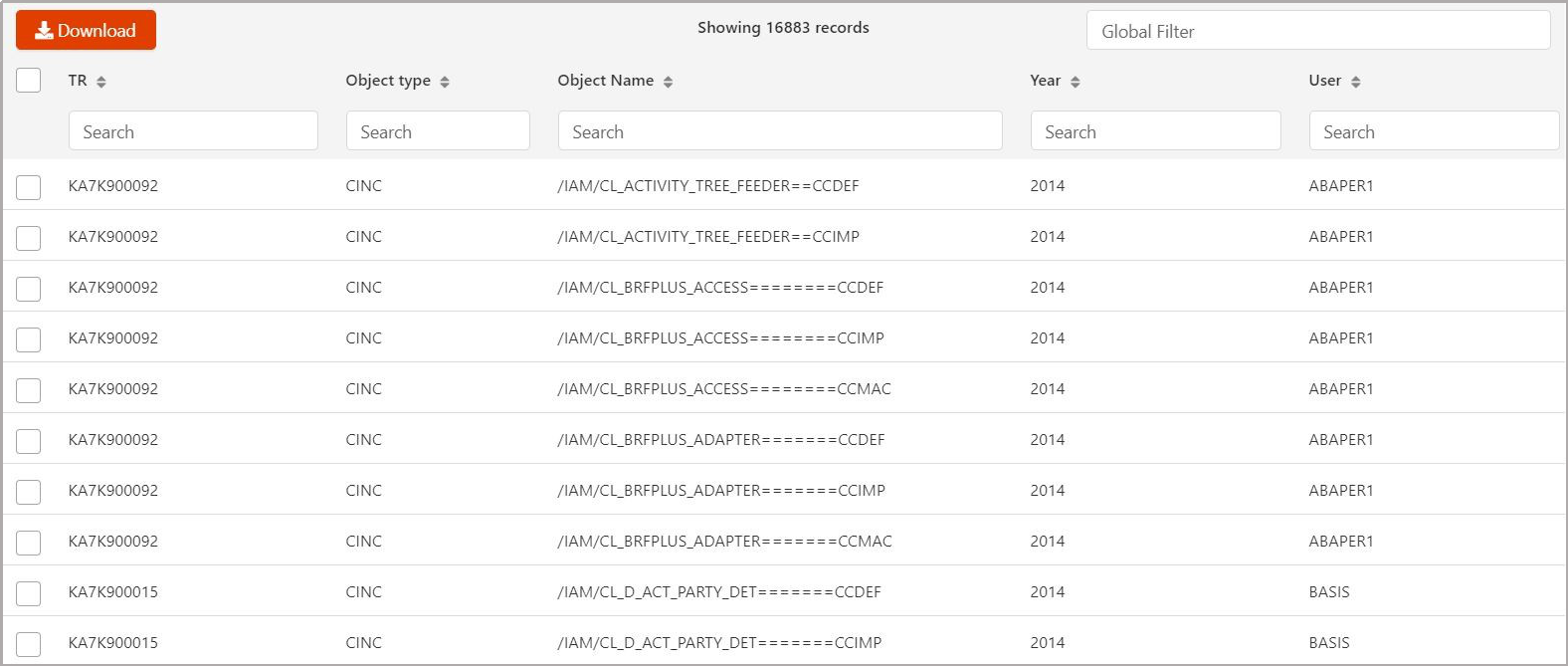 Additionally, KTern.AI also provides a clear view of the TR movement between each landscape. You can find out how many TRs are moved from development to quality or quality to production. You can also find out the TR frequency movement of each landscape and the top stakeholders of each landscape.
Benefits of TR Analytics feature
The SAP S/4HANA is a long project which spans over several months. Hence, during the conversion project, it is not practically possible to stop all the activities. The customer will keep on making changes in the system during the course of the project. Therefore, TR Freezing becomes an important aspect of the system conversion process.
TR Freezing is nothing but the point beyond which additional Transport Requests must not be moved in any of the landscape.
If they are moved, then there may be problems in S/4HANA conversion, and the new system may not work post Go-Live. The several mock conversion runs will go in vain.
KTern.AI's TR analytics feature will help the basis consultants and project managers to accurately determine the TR freezing time. It also helps in monitoring the system for Transport Requests and the frequency of TR movements. One can also determine the pattern in which the TRs are moved around in the landscape and understand the customer system.
And, no other competitor product in the market provides the Transport Request Analytics.
Next Steps
Now that you know how to automate the SAP Transport Request Analytics in KTern.AI and the deductions you can make out of it, you might want to get a first-hand feel of KTern.AI and its other features which help automate and govern SAP projects from start to finish.
Alternatively, if you would like a guided demo of the product from one of our product engineers, kindly get in touch with us by submitting a message at Contact Us.