How to Address SAP S/4HANA Testing Challenges?
Table of contents
History of SAP
SAP launched R/3 way back in 1992 and has since come a long way to the modern-day ERP, SAP S/4HANA. It is the next-generation ERP suite powered by the HANA database and it impacts every nook and corner of the business. But, what do you think is the one major constant across all these extensive software upgrades? Yes, it is SAP Testing.
Testing is one of the most crucial phases in an S/4HANA conversion. Yet, 72% of the companies depend on manual testing to verify changes in critical business processes. Manual testing is costly (representing over 30% of the typical SAP project budget), time-consuming and not accurate enough, thus causing a roadblock in your move to S/4HANA.
But, it doesn't have to be that way. To meet quality standards when implementing continuous change, enterprises need a single tool which can not only ensure test automation, but also takes care of test management, test execution, test tracking, and test collaboration. After all, choosing the right testing solution can remove the problems involved in testing. And, that's where KTern's Digital Labs can help you.
Introduction to KTern's Digital Labs
As per SAP's Activate framework, the SAP testing methodology or the test lifecycle consists of three phases:
Test Planning
Test Preparation and Execution
Test Validation
KTern's Digital Labs can automate the entire test lifecycle and helps you test SAP solutions better. KTern is automated digital workplace for SAP Digital Transformations. It takes care of people, projects & processes at a business. As an enterprise product suite, KTern drives business productivity and is built to help the existing ECC customers migrate to S/4HANA.
Digital Labs is one of the five core Digital Streams of KTern. As organizations across the world are moving from SAP ECC to SAP S/4HANA, KTern's Digital Labs enables them to find the relevant test cases, run test-bots, and get intelligent reports. Thus, KTern enables organizations to take full advantage of SAP test automation.
Features of KTern's Digital Labs
KTern's Digital Labs is an end-to-end test management solution, built specifically for SAP Digital Transformation projects. It delivers 30% to 40% reduction in testing effort. The Digital Labs of KTern is tightly integrated with Digital Projects (Project Management hub). Typically, the testers would be testing the various test cases on one side and the governance would take place via emails or chat or any other project management tool. The whole process was cumbersome and arduous for all the stakeholders involved.  Therefore, Digital Labs was developed to execute, manage and collaborate all the testing related activities of an S/4HANA migration/upgrade project in a single place.
Some of the prominent features of Digital Labs include:
Built on SAP's Activate framework, specifically for SAP transformation projects
An in-built AI based S/4HANAPEDIA rule engine
Value, Volume and Velocity (VVV) based auto test case recommendations
Auto test case executions and defects repository
API-based and screen recorder-based (readable scriptless test cases captured in real time) testing
Tightly integrated project management capabilities
30% - 40% reduction in total project cost and timeline
SAP Testing using Digital Labs
Test Suite Cockpit
Upon launching the Digital Labs of KTern, you will be taken to the Test Suite Cockpit. It contains three sub-sections:
Test Catalog – universal list of test plans, test scenarios and test cases
Auto Recommendations – analyzes an SAP system and auto-generates test cases
Auto Import – imports test cases from an excel sheet
It also includes the Test Suite Dashboard and the Sign-Off Wizard.
Test Suite Dashboard – VVV Analysis
The VVV Scoring Dashboard covers the Value, Velocity, and Volume Analysis of the business per transaction usage. There could be 'n' number of business processes in a system. This dashboard identifies the critical business processes and prioritizes the test cases which must be tested based on the following factors:
Value - This score denotes the merit and significance of the transactional execution for the business scenario.
Volume - This score denotes the magnitude of the data and documents obtained from the transactional execution of the business scenario.
Velocity - This score denotes the frequency of the transactional execution for the corresponding business scenario.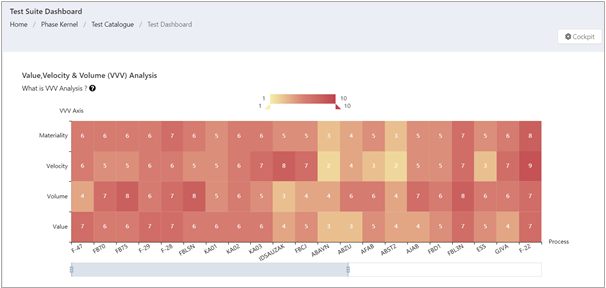 Sign-Off wizard
Testing is one aspect of S/4HANA migration which can extend the timeline of the project since it involves a lot of ambiguity. No matter how well you document a test case and raise defects, there's always some sort of difference or ambiguity between the system integrator and the customer. KTern's sign-off wizard provides a way to ensure transparency among the key decision makers.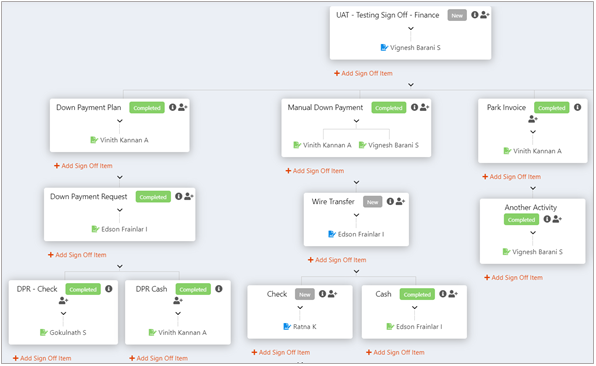 Test Case Wizard
Once you click and launch any test case from the test catalog, you will be automatically directed to the Test Case Wizard. The test case wizard consists of some basic information like the status, priority and the test type. It also has the option of editing the test case.
The Test Case wizard has the following sub-sections:
Test Center
Test Lab
Auto-test Console
Defects Repository
History
For a more detailed description of the features of Digital Labs, you can read the "The Beginner's Guide to SAP S/4HANA Testing using KTern"
How is KTern's Digital Labs different from that of its competitors? 
The differentiating factor of KTern is that it enables us to automate, manage and monitor the testing process analysis starting from the Discover phase itself. In addition, KTern provides a details of each test case and the materiality score formulated helps in prioritization of test execution. All this results in better decision-making and planning during your journey to S/4HANA.
Another differentiating factor of KTern is the tight integration between Digital Labs and Digital Projects. A Digital Transformation project is not dependent only on data and process flows alone. One of the critical factors for the success of any digital transformation is the active collaboration of stakeholders. The same holds true for a S/4HANA conversion project, which forms the core of your digital enterprise. In this sense, KTern provides a completely wholesome experience for all the stakeholders involved in the project.
Next Steps
Now that you are aware of the capabilities of  KTern's Digital Labs, you can get started with the same at Getting Started. Alternatively, if you would like a guided demo of the product from one of our product engineers, kindly get in touch with us by submitting a message at Contact Us.