What should enterprise do for digitization?
The previous two articles were about the Paths Enterprises are taking for Digital Transformation and where exactly are enterprises in their Digitization journey. In this article, we'll discuss what enterprises should do now in their transformation journey?
Enterprises are beginning to realize that Digitization of the core is a must rather than a nice to have. A point has been reached where most enterprises are agreeing or at least coming to understand that the core must be digitized and the process of doing that is sometimes more difficult than what was originally assumed.
Table of contents
So, what does digitization of the core mean?
It is more about having a micro-services embedded architecture where data is "seamlessly exchanged between the core and the edge", and not necessarily replicated between the two because that gives a unique set of problems by itself.
The best way of digitizing the core is to have an architecture that seamlessly exchanges data but not does not replicate it.
It is also desirable to have a core that is fully transformed when it comes to Machine Learning, Artificial Intelligence, and a bit of Predictive Analytics.
In order to achieve 100 percent of edge digitization, digitization of the core is mandatory.
The Post Modern ERP
All these features and capabilities, which were actually considered difficult from an integration perspective, are beginning to take shape or form within the core itself.

SAP has started integrating most of these modern technology libraries into the core itself. Thanks to the development of SAP S/4HANA, SAP is now able to push a lot of functions that was previously available only on the SAP Cloud Platform into the core itself.

The post modern ERP, in addition to being built on the micro-services architecture, also allows for seamless integration between the edge and the core. This gives much more flexibility today in digitizing the edge itself.
When the core is seamlessly connected to the edge applications, it also means that the digitization of the edge can be done much more quickly and a lot of open ended applications can be connected to the cloud.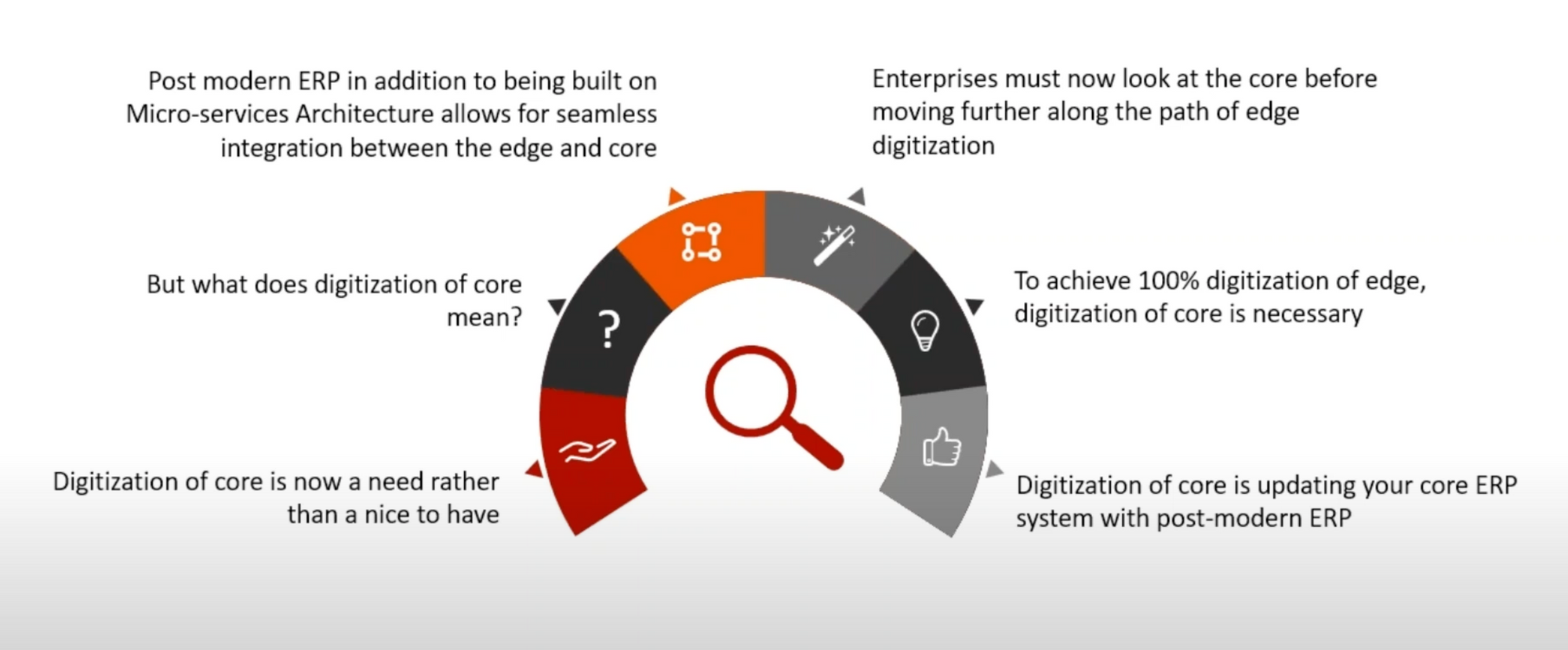 Learnings
Enterprises must look quickly at the core before moving further along the path of edge digitization. They have to look deeply into the core to see what kind of processes they want to change as they move to a newer core.

In some cases, businesses may not changed so much, but they may have vastly increased in terms of spread and volume. But in other cases, the legacy ECC system would have been implemented 12 to 15 years ago and may not be relevant anymore due to extensive customization and custom developments. So, that itself needs to have a complete revamp.

Enterprises are beginning to be aware that they cannot proceed with the digitization of the edge without touching the core itself. Digitization of the core is nothing but updating the core ERP system with a post modern ERP like SAP S/4HANA.