KTern.AI: The only tool you will ever require analyzing the License Impact of moving to SAP S/4HANA
SAP S/4HANA, the modern digital core, is designed to integrate with and utilize IoT, Big Data, Mobile, Business Networks, third-party systems, and more.
SAP S/4HANA helps you create a truly live business:
It is immediate – empowering business users with insights to act in the moment
It is intelligent – beyond automation to predictive suggestion
It is integrated – not only between your departments, but connected to the world
With the deadline of the end of ECC support approaching fast, many organizations are already in the transition phase. Or at least many organizations are planning their transition to SAP S/4HANA. You must plan the transition carefully and meticulously. One of the key aspects to consider is the license impact of moving to SAP S/4HANA. What will happen to my SAP ECC licenses? How many S/4HANA licenses should I buy? Should I buy as many S/4HANA licenses as present in SAP ECC? All these questions cannot be answered without proper data.
In this article, we'll explain how KTern's User Licensing Recommendations/User Profiler feature provides the necessary data about each user and help answer the above questions with ease.
In addition, you can find out SAP S/4HANA assessment in this article.
Table of Contents
License Impact of moving to SAP S/4HANA
A digital core with SAP S/4HANA is designed to be delivered on premise, in the cloud, or in a hybrid deployment model. Examples of digital core processes include accounting, financial close, material requirement planning, maintenance management, invoice and payable management, and operational procurement – just to name a few. Advanced LoB and industry add-ons and functionality, like extended warehouse management, production planning etc which in the past were pushed out of ERP because of legacy database limitations, are now embedded into the digital core.
SAP licensed its product for when the customer's employees directly logged into the SAP ECC system and used it. It identified and licensed every individual using the software. But, with the advent of S/4HANA, there has been a steady rise in the number of interactions between environments and the disruption of IoT devices or bots. It is called Indirect Access. Hence, the licensing metric changes in S/4HANA.
SAP keep changing their licensing policy from time-to-time. At the time of writing this article, following are the type of licenses:
Standard types of Licenses in SAP ECC
SAP ERP Professional User
SAP ERP Limited Professional User
SAP ERP Test User
SAP ERP Business ESS User
Standard Types of Licence in SAP ECC
SAP ERP Professional User
SAP ERP Limited Professional User
SAP ERP Test User
SAP ERP Business ESS User
Standard types of Licenses in SAP S/4HANA
S/4HANA Enterprise Management Professional Use
S/4HANA Enterprise Management Functional Use
S/4HANA Enterprise Management Productivity Use
SAP ERP HCM Component
KTern.AI's User License Recommendations
KTern.AI is an all-in-one product suite built for SAP Digital Transformations. With decades worth of SAP Tribal knowledge combined with automation, governance and collaboration capabilities, KTern.AI is built to help the existing ECC customers migrate to S/4HANA. KTern.AI covers the entire lifecycle and guides you before, during and after the conversion. Its inbuilt S/4HANAPEDIA rule engine combined with several modules eases the transition from SAP ECC to SAP S/4HANA.
With the User License Recommendation/ User Profiler feature, KTern.AI automatically analyses the connected system and provides detailed information about each and every user present in the system. It also classifies them into active and inactive users based on their activity. It is essential to have a fair idea of the user license impact before moving to S/4HANA. This feature is part of KTern.AI's Impact Analysis module and it is covered in the Discover phase of the Activate Methodology.
Features of KTern's User License Recommendations
In the case of S/4HANA system conversion, you must analyse the existing SAP ERP users and their license types. KTern.AI automates this process. It finds out the total number of SAP ERP users and also classifies them into active and inactive users based on their activity. As a result, this section gives you an analytical view of all the users present in the system and helps you make the right decision with respect license purchase before moving to S/4HANA.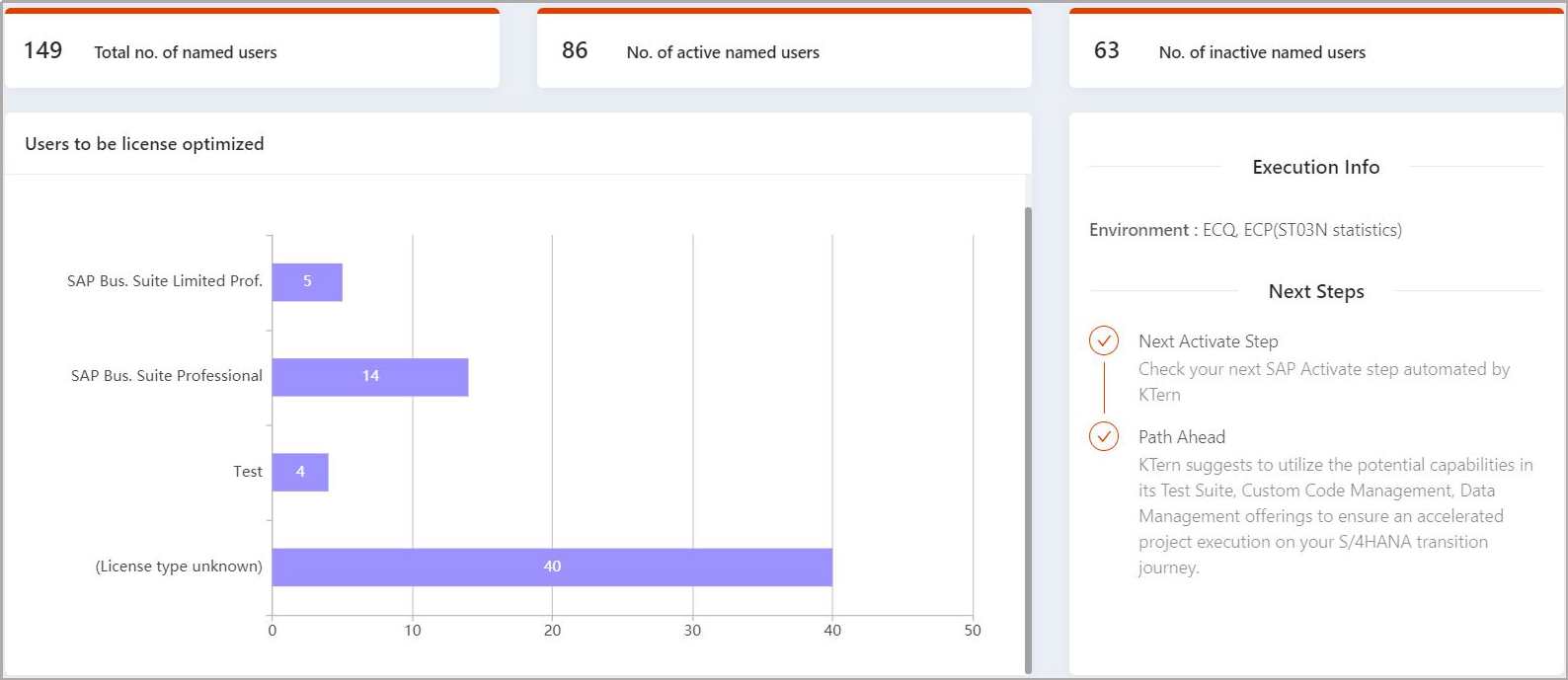 With KTern, you can choose between actual usage and the authorizations contained in your user licenses. See the gap between the two metrics. This is relevant for all SAP customers who have both older contracts, which are measured by actual use, and newer contracts in which user licenses are allocated based on authorizations. Before your S/4HANA migration, find out how many "SAP Professional Use", "SAP Functional Use", and "SAP Productivity Use" licenses you'll need in the future – all of which are allocated based on available SAP authorizations and a solution's functions. We want to make sure that you don't pay more in the new world than you did in the old world. KTern analyses the system over a period of time and finds the inactive users which can be omitted while purchasing the SAP S/4HANA user licenses.
KTern's User Analysis
KTern.AI also provides the below information about each and every particular user in the ECC system:
Name of the user
User type (Communication user, Dialog User or System User)
License type (Professional, Limited Professional, Test or ESS user)
Type of Admin user
System to which the User belongs
Last Login date of the User
User status (Active or Inactive)
KTern provides all the user information in an easy-to-consume table format.
A Digital Transformation project is not dependent only on data and process flows alone. One of the critical factors for the success of any Digital Transformation project is the active collaboration of the stakeholders. And, KTern provides a single platform where everyone can collaborate and have a clear view of the happenings of the project. KTern provides the option of downloading the user analysis report. You can sort and search this table by each column and perform the relevant analysis. In addition, you can also post it in the forum, assign stakeholders and collaborate.

Advantages of KTern.AI's User License Recommendations
This feature of KTern.AI is essentially used by the Project Managers and key stakeholders of the customer side. It enables them to have a thorough understanding of their ECC landscape and their licensing model. The main purpose of this feature is to determine the number and type of licenses you need to purchase before moving to S/4HANA. Doing this analysis before moving provides a significant advantage in planning your system conversion. That's why, this feature is included in the Discover phase itself.
Another most crucial advantage of this feature is that you can determine the inactive users in a system. You need not purchase licenses for the inactive users in S/4HANA. This will enable significant cost savings while moving to S/4HANA and result in an agile system.
Next Steps
Now that you know how to use the User Licensing Recommendations in KTern.AI and the deductions you can make out of it, you might want to get a first-hand feel of KTern.AI and its other features which help automate and govern SAP projects from start to finish. You can get started with the same at Getting Started Alternatively, if you would like a guided demo of the product from one of our product engineers, kindly get in touch with us by submitting a message at Contact Us.