KTern for Greenfield Implementation: Unlocking the power of Intelligent Automation
KTern.AI for Greenfield Implementation
What is greenfield implementation?
Greenfield implementation refers to the process of building a new system or infrastructure from scratch without any constraints or dependencies on existing systems. In the context of enterprise software, such as SAP S/4HANA, greenfield implementation involves setting up a brand-new instance of the system without migrating or integrating data from legacy systems.
In a greenfield implementation, organizations have the opportunity to start fresh and design their system architecture, business processes, and data models according to their specific requirements and industry best practices. This approach allows for greater flexibility, as it eliminates any limitations or complexities associated with existing systems.
Greenfield implementation is typically chosen when organizations want to take full advantage of the capabilities and features of a new system or when their existing systems are outdated, inefficient, or no longer meet their business needs. It offers several advantages, including the ability to optimize business processes, leverage new technologies, and implement industry-specific best practices without being constrained by legacy systems.
Introduction to KTern.AI
KTern.AI is an SAP Spotlight Partner with the vision to inspire and democratize SAP centric Digital Transformation as a Service (DXaaS). With the DXaaS Automation Platform, KTern.AI ensures success in SAP investments for enterprise customers & partners. KTern.AI is a global leader in offering cognitive, industry cloud digital workplace with tribal knowledge intelligence & data-driven hyperautomation.
KTern.AI simplifies the effort in SAP assessments, greenfield, conversion, SDT, upgrades & AMS projects, testing, custom code adaptation and change impact mining. KTern.AI provides continuous automation value in end-to-end SAP digital transformation cycles, leading to 7x times accelerated transformations with 24% reduction in overall effort.
Five Digital Streams of KTern.AI
KTern.AI offers 5 digital automation streams to boost the success rate of SAP Digital Transformations in enterprises :
Digital Maps - Plan your SAP transformations, driven by rapid and comprehensive assessments
Digital Projects - Ensure productive governance in your SAP transformation projects with remote efficiency
Digital Process - Orchestrate your SAP process lifecycle with tribal knowledge base & integrity led experience
Digital Labs - Gain ultimate control and ensure your business reliability with SAP test intelligence
Digital Mines - Avoid business disruptions with risk-free releases, optimized testing & Intelligent SAP DevOps
KTern.AI for Greenfield Implementation
Digital Projects
Digital Projects stream of KTern.AI provides a comprehensive project management tool for the Greenfield Implementation process. It helps organizations to plan, execute, and manage the project efficiently. The tool provides real-time visibility into the progress of the project and identifies potential issues before they become major roadblocks.
KTern.AI's Digital Projects is the underlying framework which orchestrates collaborative engagement, enables on-time phase closures, ensures knowledge transfer and change management of all the digital transformation stakeholders – customers, partners, system integrators & SAP. The KTern.AI enterprise product suite drives productivity for the businesses and projects on a larger scale in one digital platform.
Project Creation
You will be transported to the Project Launchpad after logging into KTern.AI. A project launchpad is nothing more than a collection of all the projects to which the user has contributed. From this window, you may also establish a new project for a S/4HANA implementation, conversion, or selective data transition.
Additionally, you can create a project calendar and determine the project's timeframe in advance. Then, KTern.AI will automatically create a project plan based on SAP Activate that may be adjusted to meet your needs. If not, you can upload a project plan into KTern.AI from an excel document.
Inviting users to KTern.AI
Once the project has been formed, you can invite additional project participants and stakeholders (from both the system integrator and the customer sides) into KTern.AI so that everyone can see what is going on with the project. It only takes one step to invite users.
You can specify the team member hierarchy and access levels while inviting the users. In KTern.AI, there are four different access levels: Limited, Basic, Standard, and Super.
KTern.AI automatically creates an organisational structure based on the project hierarchy supplied while inviting the users. This will enable you to comprehend the project's reporting structure, sign-off structure, and escalation matrix clearly.
Workspace
A user will by default arrive at the "My Workspace" screen after launching a project. It is a dashboard that gives you a summary of all the project work items to which you are contributing. Tasks, Issues, and Test Cases are the three basic categories of work items in the workspace.
Control Center
The Control Center provides a comprehensive overview of the project's status and allows project managers to control the entire project from a single location. From a single location within KTern.AI, you can define the functional scope and IT scope, keep track of team member discussions, and guarantee project cadence.
During the project, the project manager can additionally add and keep an eye on any risks. You can manage the risk indicators, risk response, and responsible party from within KTern.AI.
Control center contains the following sub-sections:
Smart project charter
Intelligent risk management
Intelligent communication matrix
Organization structure auto-formulator
Timeline
Users can add and modify tasks in the automatically created project plan on the timeline in the Project Hub. Users can establish dependencies between activities by linking these newly produced tasks to the jobs that came before them.
Each task is listed in the workbook's view, which resembles an excel sheet, along with its corresponding phase, work package, status, and anticipated and actual dates. This workbook is designed to make it simple to add, assign, and update the status of tasks.
In this section, you may also add milestones for phase completions and sign-offs. A milestone may be either billable or non-billable.
Tasks
The SAP Activate framework is the foundation for KTern.AI. It is KTern.AI's beating centre. The Activate methodology's phases and subphases are thus used to categorise each activity. You are always transported to the task wizard when a job is launched. The Knowledge base of KTern.AI is one of its distinctive features.
There is a specific S/4HANAPEDIA knowledge base for each task. Every job, work package, and phase has a clear aim, a suggested course of action, and an expected outcome. As a result, even a SAP consultant with less experience can complete these duties with ease. In order to make everyone's life easier, KTern.AI automatically presents value components, helpful resources, and links for each activity in a single location.
The 'all Tasks' page contains a repository of all the tasks in the project. You can create a new task from this page and it will be incorporated automatically in the project plan. It also provides the analytics of the tasks. Approvals of these tasks can be done only by the manager, thus providing complete governance and transparency in the project.
Hence, to sum up the task wizard, it has the following features:
Intelligent task knowledge base
Automata launchpad
Document management
Task history auto-tracker
Issue Tracker
In KTern.AI, generating an issue is comparable to creating a task. You can add issues/defects pertaining to test cases or general issues associated with any work from a separate issues repository. You can specify stakeholders, planned vs. real dates, and the problem's relationship to a certain parent task when generating an issue. As a result, KTern offers a solution for all project managers and important stakeholders to work from a single location exclusively.
You can follow all the modifications that have been made to that test case since it was generated because KTern.AI also records the history. Additionally, you can raise the problem with SAP directly through KTern.AI.
Issues has the following features:
Intelligent issue knowledge base
Defects auto-handling
Document management
Issue history auto-tracker
Test Cases
You can also create test cases from the Project Hub. The test case creation and execution is part of the Digital Labs of KTern.AI and is explained in detail in this article.
All the issues, tasks and test cases can be exported in the form of an excel sheet.
Calendar
The Calendar offers a calendar view of all of your tasks, issues, and test cases along with their associated statuses.
Additionally, KTern.AI itself offers the ability to build Events. You can invite guests, schedule repeating meetings, and link these events to specific tasks or work packages. Additionally, you may assign CTAs and write meeting notes inside the event. Multiple email threads, zoom calls, and Microsoft meetings
Document Repository
The main objective of the files/document repository is to have all the project related files and documents in one single place within KTern.AI. In this way, the entire knowledge and information regarding the project can be found by anyone, accessed from anywhere in one single place.
The document repository contains:
Auto-organized document repo
Work item files auto-manager
Meeting files auto-manager
Charter files auto-manager
Forum
The Enterprise forum is more like Facebook where all the project members can have discussions regarding the happenings of the project. It has the following features:
Global discussion forum
Work item conversations
Auto announcements and posts
Automata collaboration
Sign-Off Wizard
A SAP S/4HANA migration effort is difficult and fraught with uncertainty. Therefore, adhering to the project's schedules and making sure the activities are completed in the right order are crucial for the project's success. The KTern.AI sign-off wizard aids in the methodical approval of successive phases and ensures that the system goes online according to schedule.
You can build numerous sign-off groups and objects with KTern.AI. Following that, you can map a number of activities, problems, and test cases under each sign-off item. These sign-off items may receive hierarchical approval from the appropriate stakeholders. Each scenario and sub-scenario has a single root node from which sign-off items can be generated. Then, the consultants, ABAPers, testers, department heads, project managers and project champions from both the system integrator side and the customer side can approve these sign-off items. This ensures complete visibility and transparency. Also, there will be fewer problems during cut-over orchestration.
The sign-off wizard has the following features:
Sign-off approval auto-orchestrator
Sign-off stakeholders management
Compliance checks
Q-gate validation and phase closures
Dashboard
The dashboard contains the analytics of the work items which can be viewed as per the different phases, work packages, status of the work items, stakeholder, modules and business processes. Thus, the project manager can have a clear view on the happenings of the project.
The Dashboard has the following features:
25+ KPIs based dashboard and workspace
Automated charter, test, meeting reports
Resource utilization tracker
Overdue alerts and risk insights
KTern.AI also provides a Resource Utilization chart. This chart has the list of all the stakeholders along with the status of their respective work items. This makes the project manager's job easier and be well-informed of any discrepancies and timeline lag in the project.
Digital Process
Digital Process stream of KTern.AI helps in analyzing the existing business processes and identifying areas that can be optimized. It provides an end-to-end view of the existing business processes and highlights areas that can be improved. This helps organizations to streamline their business processes and ensure that they are optimized for the new system.
KTern.AI Digital Process is primarily focused on better modelling and simulation of your business processes in response to changes, thereby enhancing your company's efficiency. It consists of all the business processes that have been recorded as part of the system. It adds a lot of value to the table such as
Streamlined tracking and monitoring of Business Process activation, implementation, and orchestration of the enterprise operations
Analytical wizards for custom process profiling by objects, stakeholders, application, scope of optimization, impact and custom to standard process adaptation insights in S/4HANA
Enablement advisory with automated training scenario and stakeholder recommendations in view of the process transformation
Business Process Management
A process is a set of logically related activities performed to achieve a defined business Outcome.
The Digital Process Cockpit of KTern.AI enables you to manage your business processes in a holistic way: you can describe both business and IT perspective on processes, applications and system landscapes in one place. So business documentation and system reality are always synchronized.
Process Hierarchy
Business processes can get quite complex and this makes it tough to model a real big process into just one graphical model. It makes no sense to model an end-to-end-process like "order to cash" into just one graphical model comprising everything like "article selection to shopping cart", "submission of purchase order", "money transfer", "packaging", "logistics" etc.
A process hierarchy is necessary to divide complex processes into smaller parts. A process hierarchy follows the "from abstract to concrete" principle. This means it provides information about the processes on different levels of granularity. Therefore, it is possible to get information about the abstract value chain (e.g. Purchasing, Production, Sales) or about very specific process steps and their logical order (e.g. create customer, approve purchase order). A process hierarchy is defined by its levels and the information given in these levels.
It is key to have a defined information base on each level (e.g. a process step is always performed by a specific role instead of an abstract organizational unit), otherwise process models won't be comparable at a later stage. The model below shows the process hierarchy model and provides an example for each level - the process model consists of six levels.
Level 1 – Line of Business
A high-level aggregation of company functionality (core ore support functionalities, depending on the view of processes to be analyzed).
Level 2 – Process Group
A bundle of processes that belong to the same area of responsibility dealing with similar tasks and activities for functional or other reasons.
Level 3 – Scope Item
The Business Process is the level that aggregates business oriented functions or steps to a unit that is meaningful and comprehensive in the sense that the steps or functions incorporated are essential to fulfill a business mission related task. I. e. a Business Process is defined by steps that transform an input into an enriched output.
Level 4 – Scope Item Variant
The Process Variant is meant to fulfill the same business mission but in a different manner or with a different application compared to a Business Process. I.e. Input and Output are more or less the same but the way to reach the output is different. Each Business Process (or variant) consists of process steps. The steps itself contain activities performed by an user or a system in order to fulfill the business mission.
Level 5 – Process Step
An activity performed by a user or a piece of software together with other Process Steps forming a Business Process or a Business Process Variant i. e. Business Processes do consist of more than one process step.
A Process Step is an activity that is related to exactly one object (e.g. human, sheet of paper, purchase order (system) …).
A Process Step is typically executed by one person and documented using an appropriate representation of the object (paper, data in IT-system…).
From a user interaction point of view a Process Step is a single work task in a causal work flow without role change. A Process Step is typically identified by the fact that the task owner has got all necessary responsibilities to execute the task. A Process Step can be performed by a human being alone or by an interaction between human/system and system/system.
Process Catalog
Process Catalog displays the list of Process in tree structure by clearly showing the various levels of Process components (L1-L5). There are three views in Process Catalog.

They are
Catalog View
Table View
Spreadsheet View
Catalog View
This is the default view of Process Catalog. You can see the process components in tree manner. You can find the level of process component using the icon and tooltip found against each tree table entry of Process catalog.

Table View
You can switch over to Table view by clicking on the second icon present in the toolbar of Process catalog (found at the top right corner). This displays all the process components in table view. This view is very helpful if you need to filter the process components based on Assigned to, Created by, Status and Process level fields.

Spreadsheet View
You can switch over to Spreadsheet view by clicking on the third icon present in the toolbar of Process catalog (found at the top right corner). This view is helpful in easy-editing of various process components by giving good user experience to the user like he/she works in Spreadsheet.

RISE with SAP for process governance
It has a number of features which helps in carrying out the RISE with SAP transformations, one being the process cockpit. Here you have a list of all the business processes where you can reimagine your processes in a holistic way and steer your transformation programs better. There is also a process modeler where you can change the workflow of your business processes for better performance.
You can also perform complexity analysis for the RISE with SAP projects.  KTern.AI does the analysis of the entire system and finds out the parameters that will pose as a risk during your transformation. So the user can know what will happen if he/she chooses any of the Digital transformation approach and can handle the risk much better.
Custom Objects Cockpit
Steer your custom code adaptation for SAP S/4HANA with readily available governance and automation features. This would simplify the work of SAP Project Managers, Technical ABAP Leads, Technical ABAP Consultants, Functional Consultants in driving the custom code fixes with chaos-less, proper governance.
Custom Code Wizard
Orchestrate your custom code remediation with AS-IS and TO-BE wizards of tribal knowledge base engine. Embrace the 10000+ knowledge base assets that would simplify your work in understanding the different impact areas in S/4HANA with remediation insights .
Clone and Create
The main use of "clone and create" is to create process activities by linking the project plan and GSI. This helps with a reduction in time consumption on creating tasks with redundant names under each phase. This allows the user to create tasks with unique names, rather than duplicating the tasks with the same set of names, under different phases ensuring agile automation.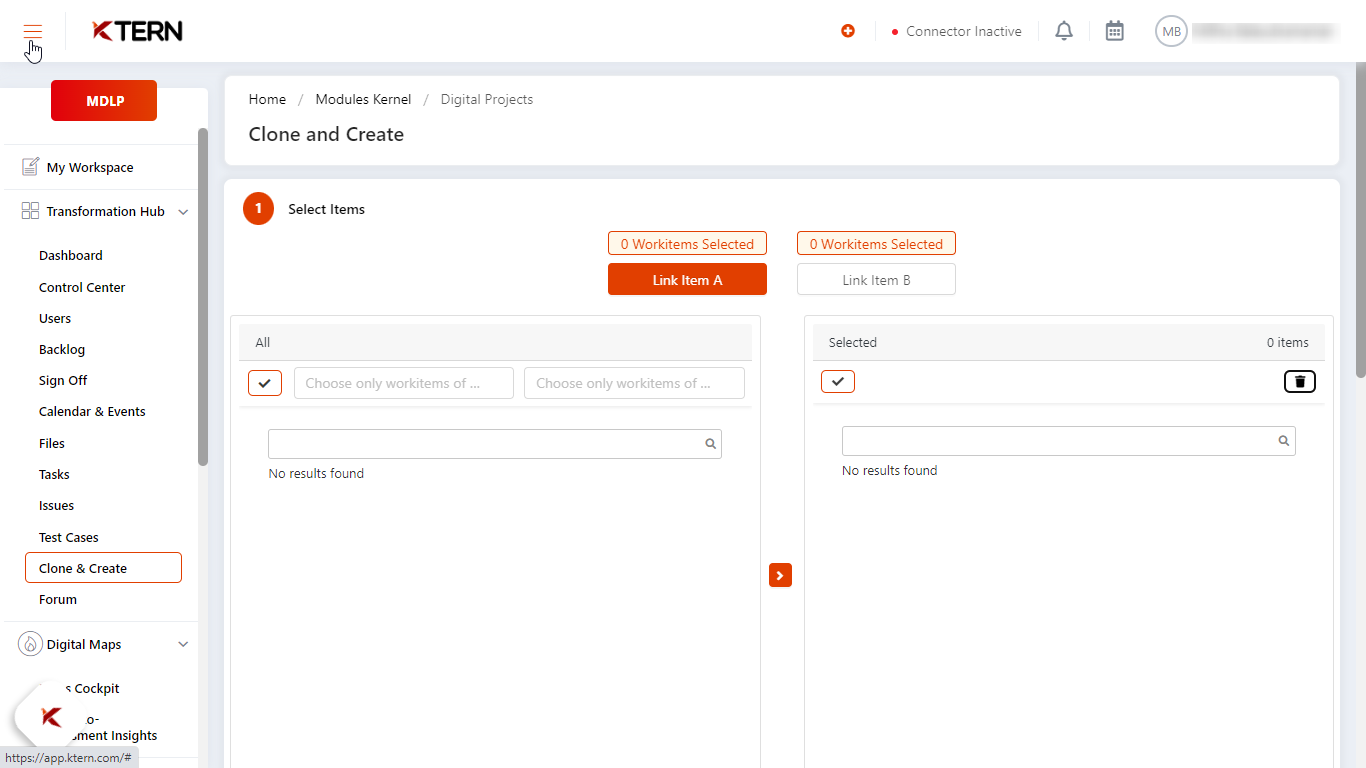 Digital Labs
Digital Labs stream of KTern.AI provides a sandbox environment for testing and validation of the upgraded SAP system. It provides a safe and secure environment for organizations to test their upgraded SAP system before deploying it to the live environment. This helps organizations to identify and address any issues before they become major problems.
Digital Labs of KTern.AI is tightly integrated with Digital Projects hub, which is the project management suite. Typically, the testers would be testing the various test cases on one side and the governance would take place via emails or chat or any other project management tool. The whole process was cumbersome and arduous for all the stakeholders involved.
Therefore, we developed Digital Labs of KTern.AI to execute, manage and collaborate all the testing related activities of an S/4HANA migration/upgrade project from a single place. The features of Ktern.AI's Digital Labs are
Test Repository
Test Scripts & Evidences
Test Reporting
Test Scenario Recommendations
UAT signoffs
Digital Labs of KTern.AI is tightly integrated with Digital Projects hub, which is the project management suite. Typically, the testers would be testing the various test cases on one side and the governance would take place via emails or chat or any other project management tool. The whole process was cumbersome and arduous for all the stakeholders involved. Therefore, KTern.AI Digital Labs was developed to execute, manage and collaborate all the testing related activities of an S/4HANA migration/upgrade project from a single place.
Test Repository
Govern your test plans, test scenarios, test cases with its scripts for a smart test management, that offers the robust digital workplace for the SAP testing.
Test Plans
With an intelligent test platform designed for change, you can ensure perfect SAP process performance. The library of test cases will make it easier for test managers, engineers, and testers to implement coordinated control over continuous testing.
Test Scenarios
Map the steps of your business process as scenarios to simplify the test governance process. To create end-to-end process testing, group your test cases and create scenarios.
Test Cases
Utilize test cases that include test scripts, evidence, and defects to test the key components of SAP. This includes scheduling the timeline and the stakeholders, tracking the status, wiki/notes capture, referencing sources, file management, and chat collaboration.
Test Scripts & Evidences
Streamline continuous testing with governance of your test scripts, evidences, defects and achieve stable captures in the world of SAP Fiori testing.
Test Scripts
Create your test scripts using UI captures that are focused on stability. The task of creating digital scripts that include test steps, screenshots, actions, locators, and expected results will be made simpler for test engineers and IT consultants using KTern.AI.
Test Evidences
Create your test evidences based on the execution of test scripts. Validate and capture actual outcomes for test steps with test passed vs failed status. Generate defects for test evidences with failure occurrences at any part of the test step.
Test Defects
Test and create test defects to manage the complete lifecycle with issue wizards. Map the test defects to associated evidences for seamless integrity and assign resolution owners to fix the defects and be informed with notifications.
Test Reporting
Gain visibility of your SAP testing with auto-generated test reports, materiality insights, passed vs failed reports, defect resolution status and test stakeholders tracking.
Test Materiality
Ensure reliability in your testing of reference process items, prioritized by value, volume and velocity. This would simplify the work of Test Managers, Test Engineers, Business Heads to plan and monitor the test lifecycle with insightful reports.
Passed vs Failed Reports
Generate test outcomes with status to determine the reliability of software upgrades. Drive continuous testing in various timelines and benefit from outcome based insights and analytical dashboards.

Defect Resolution Status
Determine the status of defects created from test failures and associated with test evidences. Monitor the nature of defects, resource utilization and understand the nature of fixes with defects status in everyday issue tracker
Test Scenario Recommendations
Accelerate timelines and reduce efforts in test automation with data-driven test scenario recommendations, specific to the industry in a non-invasive approach.
Data-Driven Testing
Embrace intelligent test automation with identification of test scenarios, specific to the SAP landscape. This would simplify the work of Test Engineers, Testers, Test Managers, Business Users, IT Consultants, RPA Developers in understanding the business and orchestrate shift-left testing.
Accelerated Continuous Testing
Benefit from unified experience for continuous testing, that ensures rapid orchestration across the different phases of testing from discovery, preparation, execution, monitoring, management and UAT signoffs.
UAT Signoffs
Orchestrate UAT signoffs for every release and Go-Live, to simplify the intricacies of a complex SAP ecosystem with automation driven workflows.
UAT SignOff Orchestration
Signoff the testing with intuitive features that help approve or reject based on review of signoff items built in a organized tree matrix. The signoff item has multi-level provisioning of orchestration of stakeholder approvals from stakeholders of SAP customers and system integrators.
UAT Reviews & Approvals
Review, approve or reject the test signoff items and steer a robust governance in order to overcome the challenges in conventional test management, that is always dealt with user negligence in the quality of functional testing across different Lines of Business.
KTern.AI Hanapedia
HANAPEDIA is an exclusive search engine for the SAP community, which is using KTern.AI. Just a single click away from identifying your auto recommended assets. Complete access to view, upload and download assets under your project in a quick period. HANAPEDIA can serve as a digitized knowledge base engine for your organization, resulting in increased productivity.
During the SAP transformation journey, KTern.AI as a DXaaS platform helps SAP customers and system integrators by governing and speeding up various processes that are involved. HANAPEDIA helps the stakeholders in searching, viewing and governing various assets or documents that are involved in the project. The knowledge and experience of the SAP environment, along with KTern.AI's data are digitized into an intelligent knowledge base engine called "HANAPEDIA".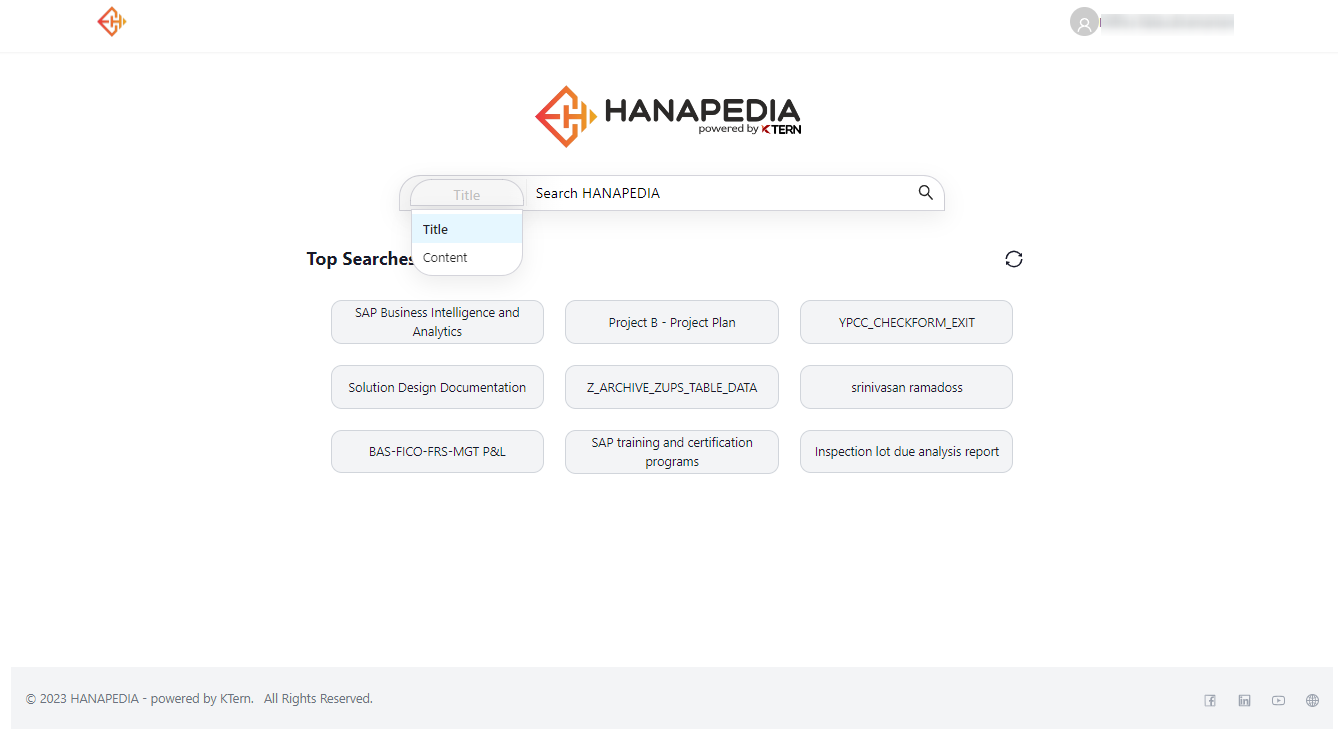 HANAPEDIA searches the contents of the assets to give accurate search results. HANAPEDIA is tailor-made for the SAP community and behaves as an organization's knowledge-based repository to search for any previously used SAP assets. E.g., Templates, Reports, Plans, Agendas and Reusable code bases.
Integrity led experience
With KTern.AI, Embrace your materiality driven SAP business process intelligence for the complete lifecycle of processes with wizards offering integrity led experience.
Process Stakeholders
Achieve excellence in transformation with integrity-led planning. Invite and manage process associated users with RBAC for a successful governance, implementation and go-live of the transformation projects.
Process - Project Integration
Leverage the unified, agile, integration driven reference features. Leverage the unified, agile, integration driven reference features in Digital Process and Digital Projects to improve productivity. This would bridge the SAP Scope Items and SAP Activate workitems, inorder to ensure the successful implementation of SAP business processes.
Process - Testing Integration
Leverage the unified, agile, integration driven reference. Leverage the unified, agile, integration driven reference features in Digital Process and Digital Labs to accelerate testing. This would bridge the process items with test cases, inorder to ensure the successful functional testing of SAP business processes.
Conclusion
To conclude, KTern.AI is your perfect SAP DXaaS solution to accelerate and automate your SAP S4HANA Implementation.
Interested in KTern.AI being your tool to effective SAP S/4HANA Implementation. Click HERE to get started.
Contact us in case of any queries.