Find out relevant SAP Fiori Apps for your S/4HANA Transformation
In 2015, SAP launched its latest innovative enterprise platform, SAP S/4HANA. It offers faster analytics in real-time, new best practices and amazing user experience through the SAP Fiori Apps. Fiori Apps are one of the main reasons why most organizations move to S/4HANA. It offers a completely new and simple user experience (UX) and is based on the in-memory HANA database technology.
However, there are thousands of Fiori applications across 140 business roles in the SAP Fiori apps Library. Not all of them may be relevant to your business. At the same time, not all the transactions present in SAP can be replaced with a Fiori App (SAP processes are far too complex for that). Hence, it is essential to assess your existing SAP ECC landscape and determine the pertinent Fiori Apps for your business process. Also, all future innovations from SAP will be released only through Fiori applications. Thus, users must adopt this change.
But, the best part is, you don't need all your functional consultants and solution architects to determine the relevant Fiori Apps. You can simply use KTern. In this article, we will explain how KTern provides SAP Fiori App Recommendations in the Discover phase of the Activate Methodology. This feature is part of the Impact Analysis module of KTern.
In addition, you can find out SAP S/4HANA Assessments using KTern in this article.
Table of Contents
Overview of SAP
The largest software producer in the world is SAP. Enterprise resource planning (ERP), customer relationship management (CRM), and product life-cycle management (PLM) software are among the offerings of the nearly 40-year-old organisation.
Enterprise software is produced by SAP, a German software corporation, to handle customer contacts and business processes.
Over the years, SAP has undergone significant development, and the business is still developing. To satisfy the needs of their clients, they are constantly developing and extending their product offerings. As a result, SAP has established itself as a top supplier of business software.
What are SAP Fiori Apps?
SAP Fiori provides a set of applications that are used in regular business functions such as workflow approvals, self-service tasks, financial calculations etc. It provides role-based applications such as Finance, HR, Logistics, etc. in real-time on compatible hand devices. You can use Fiori applications on desktops, laptops, smartphones and tablets. As the Fiori applications are powered by SAP HANA, it offers unmatched application response and faster query-execution period across lines of business.
Benefits of SAP Fiori Apps
Anytime, anywhere access of Fiori applications from any device
Reduced training costs for a new user
Instant access to data through Fiori applications
Reduced time to develop mobile applications
Equal user experience across all SAP products and a single interface to all enterprise apps
Minimum screen elements in SAP Fiori user interface
Greater employee productivity through automation rather than manual paperwork
Supports OData services for database interaction
Types of SAP Fiori Apps
Transactional Apps
Analytical Apps
Fact Sheets
You can use transactional apps to perform transactional tasks like manager-employee transactions. These applications usually run on the HANA database, but can also run on any other database with optimal performance.
Examples of transactional apps are Leave Requests, Travel Requests etc.
Fact Sheets
You can basically get key information and contextual information in business operations using Fact Sheets. They also allow you to navigate to transactional apps to run transactions. Fact Sheets run only on the HANA database.
Example is the Vendor Contract Application. You can use it to drill down information like vendor details, item details, contract terms etc.
Analytical Applications
These apps provide real-time information about the business processes from large volumes of data. You can monitor the Key Performance Indicators (KPIs), complex calculations and react instantly to your business fluctuations. Analytical apps run on the SAP HANA database.
Also, there are five core design principles for SAP Fiori UI5.
Five core design principles for SAP Fiori UI5
Role-based
Responsiveness
Simple
Seamless Experience
Delightful
KTern's SAP Fiori App Recommendations
KTern is an all-in-one product suite built for SAP Digital Transformations. With decades worth of SAP Tribal knowledge combined with automation, governance and collaboration capabilities, KTern is built to help the existing ECC customers migrate to S/4HANA. KTern covers the entire lifecycle and guides you before, during and after the conversion. Its inbuilt S/4HANAPEDIA rule engine combined with several modules eases the transition from SAP ECC to SAP S/4HANA.
Fiori applications are the only visible change to the end-user in an S/4HANA transformation project. Hence, the implementation of Fiori Apps cannot be taken lightly.
KTern's Fiori App Recommendations feature automatically analyses the connected system and recommends the necessary Fiori applications.
KTern also determines the relevancy score of each recommended Fiori app along with its respective module and transaction.
In addition, KTern also provides the list of stakeholders and the impacted roles for each Fiori App. The Solution Architects and the Project Managers can use this feature to prioritize the implementation of Fiori Apps.
Before migrating to SAP S/4HANA, you must analyze the existing ECC landscape and the business processes to determine the required Fiori Applications. A Fiori App is more than just a new user interface. It allows users to start a process on a desktop and continue it on a tablet or a smartphone.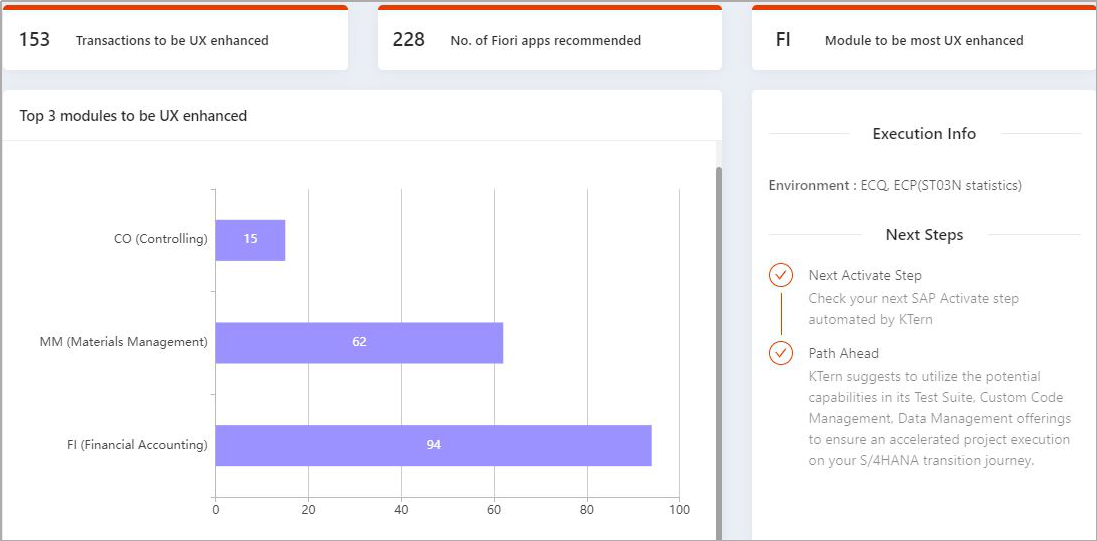 KTern automatically analyses the connected ECC system and recommends a list of SAP Fiori Apps which can be implemented. As a result, this section gives you an analytical view of the Fiori Apps as per their functional modules after analyzing the various transactions.
In addition, KTern also provides the associated stakeholders of each Fiori App along with their relevancy score and impacted roles.
For each recommended Fiori App, KTern provides the following information in an easy-to-consume tabular format:
Module to which the SAP Fiori App belongs
Analyzed transaction
Fiori App type
Relevancy Score
Stakeholders
Line of Business
Impacted Roles
Reference SAP Note
Reference links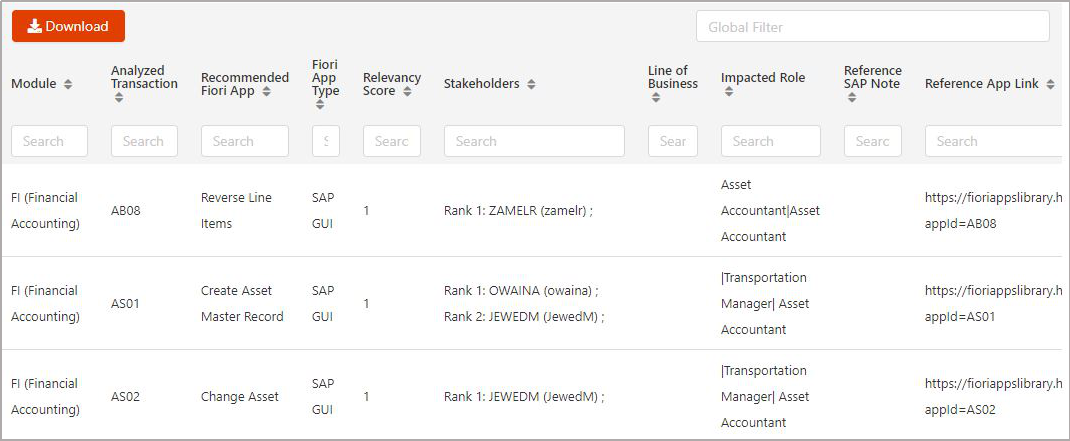 Inferences of KTern's Fiori App Recommendations
You can use SAP S/4HANA without SAP Fiori applications. While this statement may be technically true, you will be severely limiting the business value that you can derive out of your SAP S/4HANA transformation. Fiori applications deliver the best S/4HANA digital transformation benefits. However, there are over 1000 Fiori applications today. Implementing all the thousand Fiori apps does not make sense. Hence, you will have to decide which Fiori apps are relevant to your business.
With KTern's Fiori App recommendations, you can easily get answers to the below questions and determine the most important Fiori applications and implement them first.
The business process and roles which will be improved and to which functional module they belong
The applications that should be available for immediate use
The business users who will access those apps
In which use cases will the business users use those apps
And, on which devices will they use them
Based on answers to the above questions, the Solution Architects and Functional Consultants can activate the required Fiori Apps during the system conversion. Activating only the relevant Fiori apps will reduce the risk of data exposure and users accessing the wrong app.
How is KTern's Fiori App Recommendations different from that of its competitors?
Not many products in the market provide the SAP Fiori App recommendations. However, SAP's Readiness Check 2.0 provides this feature. But, the Readiness Check only recommends the relevant Fiori Apps and their respective modules after assessing the system. It does not provide the stakeholders, impacted roles and relevancy score as provided by KTern.
A Digital Transformation project is not dependent only on data and process flows alone. One of the critical factors for the success of any Digital Transformation project is the active collaboration of the stakeholders. And, KTern provides a single platform where everyone can collaborate and have a clear view of the happenings of the project. KTern provides the option of downloading the Fiori App recommendation report. In addition, you can also post it in the forum, assign stakeholders and collaborate. You can upload the files in KTern and subsequently use it any other stage of the system conversion process.
Next Steps
Now that you know how KTern provides Fiori App Recommendations, you might want to get a first-hand feel of KTern and its other features which help automate and govern SAP projects from start to finish. You can get started with the same at Getting Started. Alternatively, if you would like a guided demo of the product from one of our product engineers, kindly get in touch with us by submitting a message at Contact Us.