Why are SAP ECC customers embracing SAP S4HANA Finance?
Table of contents
Introduction
SAP has re-imagined Finance for the digital age with the SAP S/4HANA Finance solution. This Financial software runs on SAP HANA, the latest in-memory computing platform. It's key functions and capabilities include Financial planning and analysis, Enterprise risk and compliance, Accounting and financial closures, Treasury and risk management and much more and it forms the backbone of SAP S/4HANA.
Problem with SAP ECC for Finance
In SAP ECC, the financial system typically comprises of three different pillars namely Financial Accounting (FI), Controlling (CO), and Asset Accounting (AA). And ECC gave organizations the flexibility to manage these three modules separately. But, it also meant that every month end financial closure was a headache.
There were differences between FI and CO or FI and AA and there was mismatch between the journal entries and consolidation. It led to several hassles and challenges every month as all the data between the three modules must be in sync for proper month end closure. It ended up consuming most of the time.
How SAP S/4HANA for Finance Solves the Mismatch
However, SAP S/4HANA simplifies the above process and it is one of the major benefits of SAP S/4HANA Finance.
Universal Journal
The three modules are merged into one single version of truth called the Universal Journal.

Every single record of the Financial Accounting, Controlling and Asset Accounting goes straight into the Universal Journal.This leads to a very quick and expedited month end Financial closure.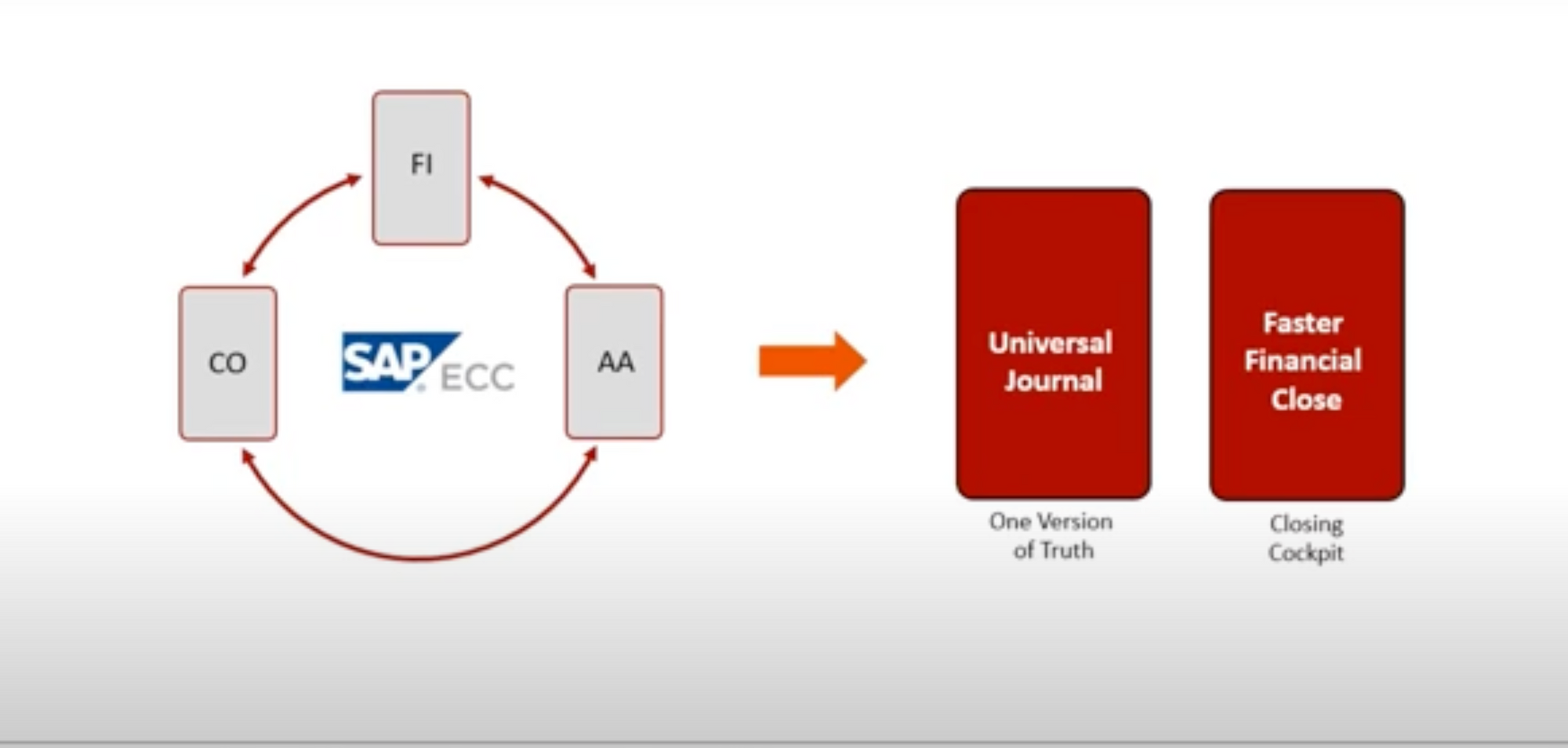 Closing Cockpit
The Closing Cockpit of SAP S/4HANA has also undergone several enhancements with many Fiori applications in place.

The Closing Cockpit provides a structured interface for executing complex processes such as monthly, quaterly, and annual closing processes.

The Closing Cockpit is one of the major selling points of SAP S/4HANA as it reduces the closure time-frame from two weeks to just two days.
The Universal Journal and the Closing Cockpit combined with Cash Management, Treasury Management and several other aspects of finance and procurement, the business impact S/4HANA   brings to the table is phenomenal.
Get started
Schedule a guided demo for an express session on the role and value of KTern for SAP S/4HANA Conversion and a demo of the All-in-One SAP S/4HANA Conversion Accelerator.