Why are SAP ECC customers embracing SAP S4HANA Finance?
SAP has re-imagined Finance for the digital age with the SAP S/4HANA Finance solution. This Financial software runs on SAP HANA, the latest in-memory computing platform. It's key functions and capabilities include Financial planning and analysis, Enterprise risk and compliance, Accounting and financial closures, Treasury and risk management and much more and it forms the backbone of SAP S/4HANA.
Table of contents
What is SAP S/4HANA?
SAP S/4HANA is the next generation of the SAP Business Suite, designed to provide real-time insights and simplify business processes. It is powered by the SAP HANA in-memory database and offers a new user experience with the SAP Fiori user interface. The move to SAP S/4HANA can be enabled through a system conversion or a new installation.

During a system conversion, customers can choose to retain their existing business processes and data models, or they can opt for a simplified data model that is optimized for SAP HANA. If opting for the latter, customers can take advantage of new features such as embedded analytics, advanced warehouse management, and material ledger accounting. The simplified data model is also better suited for running on cloud infrastructure.

System conversions can be complex projects, so customers should carefully consider their options and consult with an experienced partner before proceeding.
What is SAP ECC?
SAP ECC is an enterprise resource planning software that helps organizations manage their business processes. It includes modules for financial accounting, controlling, and human resources. SAP ECC is compatible with other SAP software applications and can be integrated with third-party applications.

System conversion from SAP ERP to SAP S/HANA Finance can be complex and time-consuming, but it is essential for organizations that want to take advantage of the new features and benefits of the latter. Some of the key changes that need to be made during system conversion include:

- replacement of traditional databases with HANA databases
- redesign of business processes to take advantage of real-time data processing
- implementation of new security measures
- migration of data from legacy systems
The transition from SAP ERP to SAP S/4HANA
The transition from SAP ERP to SAP S/4HANA is a major change for any organization. This section will provide an overview of the most essential changes that need to be made in order to convert your system.
One of the most important changes is the switch from the traditional database to the new HANA database. This requires a complete re-architecture of how data is stored and accessed. Furthermore, all customizations and configurations must be ported over to the new system.

In addition, there are significant changes to the user interface and navigation. The goal is to simplify and streamline processes so that users can work more efficiently. Newer versions of SAP S/4HANA also offer mobile-enabled functionality for greater flexibility.

Finally, you'll need to consider how you will migrate your existing data into the new system. This includes both master data and transactional data. Depending on the size and complexity of your organization, this can be a challenging process. However, there are tools and services available to help make it as smooth as possible.
Problem with SAP ECC for Finance
In SAP ECC, the financial system typically comprises of three different pillars namely Financial Accounting (FI), Controlling (CO), and Asset Accounting (AA). And ECC gave organizations the flexibility to manage these three modules separately. But, it also meant that every month end financial closure was a headache.
There were differences between FI and CO or FI and AA and there was mismatch between the journal entries and consolidation. It led to several hassles and challenges every month as all the data between the three modules must be in sync for proper month end closure. It ended up consuming most of the time.
How SAP S/4HANA for Finance Solves the Mismatch
However, SAP S/4HANA simplifies the above process and it is one of the major benefits of SAP S/4HANA Finance.
Universal Journal
The three modules are merged into one single version of truth called the Universal Journal.

Every single record of the Financial Accounting, Controlling and Asset Accounting goes straight into the Universal Journal.This leads to a very quick and expedited month end Financial closure.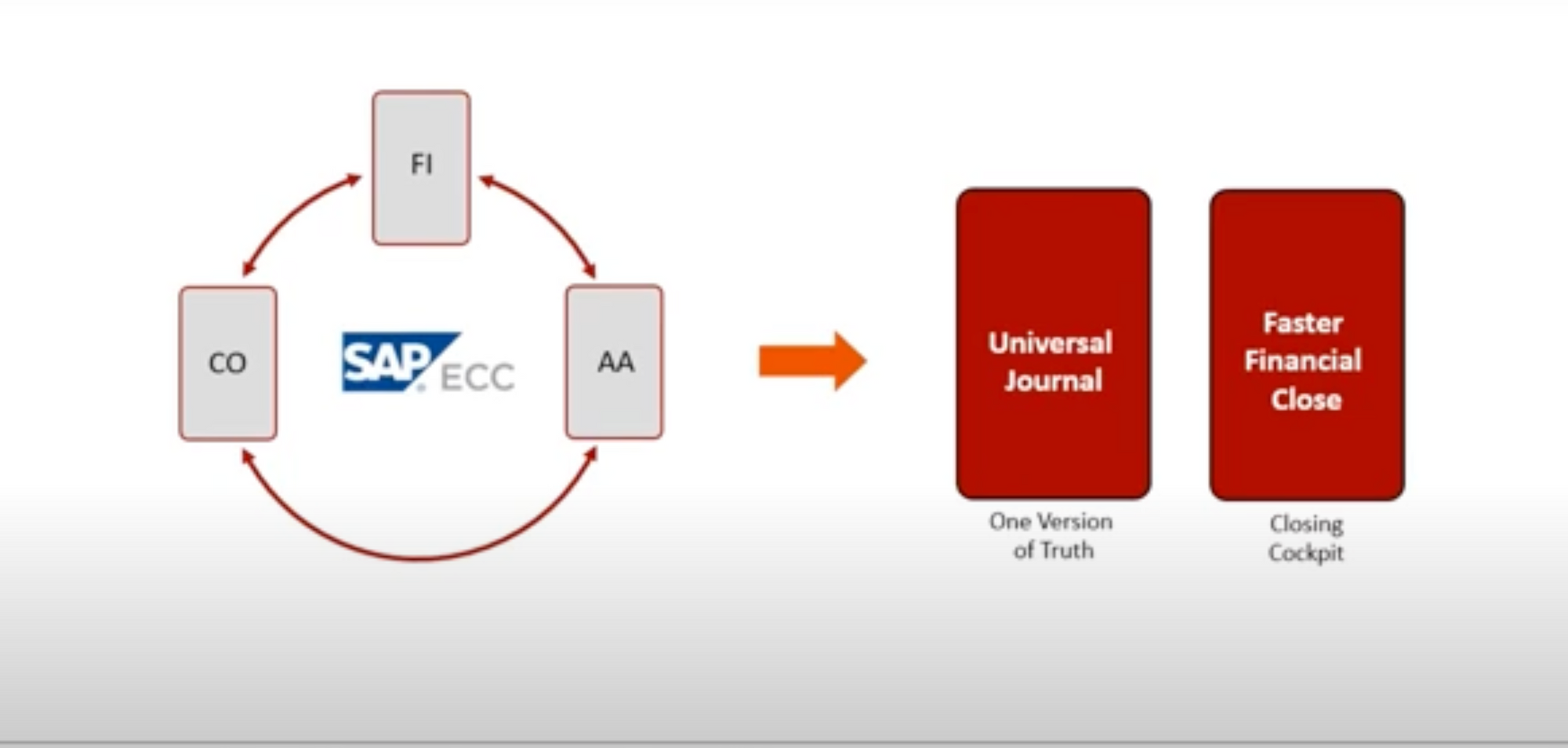 Closing Cockpit
The Closing Cockpit of SAP S/4HANA has also undergone several enhancements with many Fiori applications in place.

The Closing Cockpit provides a structured interface for executing complex processes such as monthly, quaterly, and annual closing processes.

The Closing Cockpit is one of the major selling points of SAP S/4HANA as it reduces the closure time-frame from two weeks to just two days.
The Universal Journal and the Closing Cockpit combined with Cash Management, Treasury Management and several other aspects of finance and procurement, the business impact S/4HANA   brings to the table is phenomenal.
Where do you start?
KTern.AI is a ready-to-use automated Digital Workspace with a focus on SAP S/4HANA transformations that contains automation tools for project execution and business operations. It runs on S4HANAPEDIA, the engine that automatically learns knowledge. Through the SAP Activate Methodology's Discover, Prepare, Explore, Realize, Deploy, and Run phases,  KTern.AI provides stakeholders with insightful information.
To aid with your digital transformation process, KTern.AI offers the following 5 modules.
Digital Maps, Digital Projects, Digital Process, Digital Labs and Digital Mines.
KTern's 5 modules:
Digital Maps - Analysis of business processes, landscapes, and custom process with implications of S/4HANA's modifications and simplifications and optimization insights
Digital Projects - With intelligent insights, SAP can provide project governance, simulation, and stakeholder collaboration.
Digital Process - Activation, implementation, and orchestration of business processes inside the corporation are tracked and monitored more efficiently.
Digital Labs - Continuous testing for SAP product upgrades is intended for quick, organized testing throughout the SAP digital transformation process.
Digital Mines - Data mining and validation at the business layer before, during, and after the transition taking into account S/4HANA's simplifications.
Are you in the lookout for a platform to carry out your transformation to S/4HANA to seek the benefits of SAP S/4HANA Finance?
Get started
Schedule a guided demo for an express session on the role and value of KTern for SAP S/4HANA Conversion and a demo of the All-in-One SAP S/4HANA Conversion Accelerator.